Redundancy rules could be relaxed, says government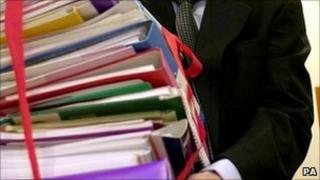 Rules governing levels of compensation for workplace discrimination, and how long firms have to consult staff over job losses, are to be reviewed.
Chancellor George Osborne said that if the government was to support job creation it could not "shy away from looking at difficult issues".
The protection of staff terms and conditions when a firm is transferred to a new owner is also to be reviewed.
Labour said the proposals would make working life less secure.
"George Osborne's only idea for growth is to make it easier to cut pay and pensions, dismiss employees without giving time to plan for the future and make working life more insecure," said shadow business secretary John Denham.
"Successful companies have a workforce that is confident, dedicated and fairly rewarded," he added.
Excessive compensation?
The government says it wants to remove unnecessary bureaucracy within current employment law.
At the moment, firms cannot make more than 100 workers redundant within 90 days of informing them of redundancies.
The Business Department said employers were concerned that this time scale was "hindering their ability to restructure efficiently and retain a flexible workforce".
It added: "Employers in financial difficulty worry about how long they need to keep paying staff after it has become clear that they need to let them go."
On discrimination compensation, it said that while there needed to be remedies, companies had "expressed concern about the high levels of compensation sometimes awarded by employment tribunals".
The Business Department added that employers were concerned that high compensation awards could encourage people "to take weak, speculative or vexatious cases in the hope of a large payout".
It said this meant that some employers settled such cases before they went to a tribunal.
'Overdue move'
"If we are to support private sector growth and create jobs, we can't shy away from looking at difficult issues like employment law," said Mr Osborne in a speech to the Institute of Directors' annual convention.
"Examining these areas of the law which could be holding back job creation demonstrates the government's commitment to go for growth."
Unison leader Dave Prentis said: "The Tory review of employment law will hit ordinary working people hard.
"The government is weighting the jobs market heavily in favour of bosses, who will be able to hire and fire their staff at will."
However, the CBI business organisation welcomed the government's announcement, saying the review of employment law was "long overdue".
"Workplace relationships have changed dramatically over the last decade, with employers and employees engaging in a more flexible, personalised way, and it's time the law reflected this," said CBI chief policy director, Katja Hall.