Sainsbury's annual profits rise by 12.8%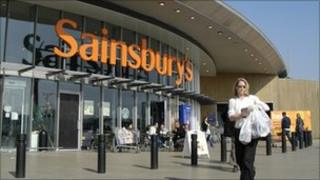 Supermarket group Sainsbury's has reported a 12.8% rise in annual pre-tax profits to £827m and says that it has taken market share from rivals.
The retailer said that total sales for the year to 19 March rose 7.1% to £23bn, with non-food sales up strongly.
Chief executive Justin King said customer numbers were at an all-time high of 21 million transactions a week - up one million on the previous year.
But he warned that the economic environment remained "uncertain".
Mr King said he expected government austerity measures and rising prices to hold back sales: "There has certainly been a change in consumer behaviour since Christmas and we expect that to persist."
Like-for-like sales, which exclude new store openings and expansions, rose 2.3%. Total sales, excluding petrol, increased by 4.9%.
The UK's third-largest supermarket chain - whose market share for the year rose from 16.1% to 16.3% - has been increasing the amount of floor space in order to stock more non-food items.
Non-food sales are rising at more than three times the rate of food, and Sainsbury's said it was now the UK's seventh largest clothing retailer.
Non-food growth
Mr King denied that Sainsbury's expansion of non-food products was targeting Tesco, the UK's biggest retailer.
But he told the BBC: "Non-food will be a key area of growth for many years to come."
Meanwhile, online rival Ocado, which delivers groceries from the Waitrose supermarket range, said its sales growth had slowed in recent weeks.
However, the company said this was it had not been able to keep up with growing demand as it was outgrowing its single warehouse from which all its orders are fulfilled.
The company is leasing another to help meet demand for its deliveries.
Ocado said sales growth had slowed to 21% in the last quarter, down from 24.7% in the previous quarter.
The shares were down by 8% at 214p, making the company the biggest faller in the FTSE 250 Index.