China-US make progress on trade but differences remain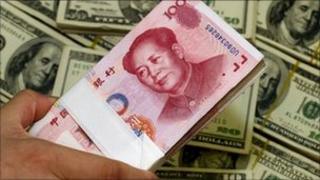 The world's two biggest economies ended a two-day meeting with both sides saying progress had been made.
China said it will allow American companies easier access to sectors of its market.
But a key US demand to let China's currency appreciate was not met.
"We are seeing very promising shifts in the direction of Chinese economic policy," said US Treasury Secretary Timothy Geithner.
The US had been hoping for a commitment from China to allow a stronger Chinese currency against the dollar.
American manufacturers believe that the yuan is kept artificially low in value which makes Chinese goods a lot cheaper than their own.
"We hope that China moves to allow the exchange rate to appreciate more rapidly and more broadly against the currencies of all its trading partners," Mr Geithner said at a news conference after the talks.
"So far both our nations have never signed any economic cooperation as broad," China's vice minister of foreign affairs Cui Tiankai said.
On the subject of the yuan there was no breakthrough however, "we stick with China's national interests" on monetary policy he said.
Promises
The annual Strategic and Economic dialogue ended in an agreement being signed between the two super powers on a broad economic framework.
It included a pledge being made to provide better protection for US companies against the piracy of computer software.
This followed on from promises made by Chinese President Hu Jintao during a visit to Washington earlier this year.
There are allegations that Chinese firms, including state-owned enterprises, are using pirated software.
Chinese authorities also promised to change government rules around competition for Chinese government contracts.
At present US firms are currently only allowed to compete if they agree to make their technology available to Chinese companies.
For its part the US has agreed to consider relaxing export controls on the sale of high-technology products to China and gave reassurances that it is open to Chinese investment in its financial services.
It remains to be seen, however, whether these promises will yield results.
"As with all agreements with the Chinese on trade, we're not going to know how significant it is until we see it implemented," said Susan Schwab, a former US trade representative.
"Some of the commitments are similar to previous commitments that didn't quite play out."
There were also promises from China in the financial services sector.
China agreed to let US and other foreign banks sell mutual funds in the Chinese market.