Disappointing quarter for Disney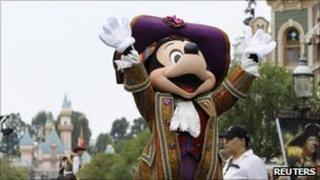 The Walt Disney company has suffered a fall in profits in its second quarter.
The world's biggest media company has been hit by the poor box office performance of its latest blockbuster, 'Mars needs Moms'.
The temporary closure of Disney theme parks because of the earthquake in Japan also dented profits.
However, revenue at Disney's television networks grew thanks to a rise in TV advertising and sales of Disney merchandise were also up.
The company's profit fell by 1% to $942m (£575.5m) compared to the same period last year.
Meanwhile, revenues at Disney grew 6% year on year, below what most analysts had been predicting.
"We are pleased with the underlying quality of our second quarter earnings," said Robert A. Iger, President and CEO of The Walt Disney Company.
Disney shares fell by 3% after the earnings announcement, but investors remain cautiously optimistic.
"My bottom line conclusion is that even through the earnings were less than what we were expecting, that was mostly one-off issues," said analyst Alan Gould of Evercore Partners.
The company is looking forward to a stronger next quarter with the release of the fourth "Pirates of the Caribbean" and "Captain America" films.