First ever Palestinian bonds sold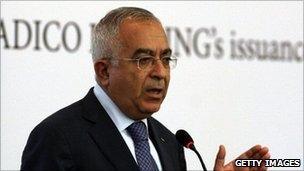 An investment firm has sold the first ever bonds from a Palestinian borrower.
The transaction raised $70m for the Palestinian Development and Investment Co, with the money coming from Palestinian and Jordanian banks.
The proceeds will be used towards building a new power plant as well as a tourism centre on the West Bank.
The move comes amid tentative steps towards a planned declaration of an independent Palestinian state later this year.
The Palestinian Authority (PA) has been encouraging private companies to issue bonds, and plans to sell some itself, according to Prime Minister Salam Fayyad.
"The Palestinian Authority is determined to build the foundations of an independent state," said Mr Fayyad.
The PA has previously indicated it would declare statehood this summer and has lined up many governments ready to recognise it as such.
The ability to borrow money via the bond market will be of more than purely symbolic importance.
Israel suspended the transfer of tax revenues to the PA last week in response to the reconciliation agreement between the ruling Fatah faction and Hamas, which governs the Gaza Strip.
The tax transfers represent about 70% of the PA's revenues.