How sharing could change the future of business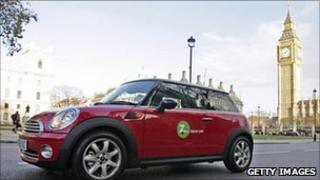 While it may sound like a piece of complex business jargon, "collaborative consumption" is a simple idea that could drastically change the way we live.
Behind the jargon is the age old lesson that every child and most adults have found difficult to grasp: it is better to share.
Though it may seem like a hippy ideal, collaborative consumption and the companies that champion it are making a big impact, and big profits, around the world.
Whether the product is a pint of milk, a car or a holiday home, there are a growing number of groups, communities and companies embracing this new sharing model for personal, social and corporate profit.
One firm is Zipcar, the US company that leases cars to subscribers for as little as 15 minutes at a time.
Set up 11 years ago in the university town of Cambridge Massachusetts, Zipcar works on a subscription model.
Members pay a small registration fee when they sign up online or by phone. They locate cars using online maps or a special smartphone app and open them with a special fob.
The company, which floated on the Nasdaq last month, smashed market expectations as its shares sold 60% higher than their offering price of $18.
Last year Zipcar acquired its UK equivalent, Streetcar, for an estimated $50m (£30m), and the company continues to expand in the UK.
BMWs for all
Car rental companies are not the only ones to latch onto the concept of sharing over private ownership - car manufacturers have started to explore the market too.
In 2008, Daimler - the manufacturers of Mercedes-Benz - launched a test project in the city of Ulm in Germany, and a year later expanded the service to the US. It now has over 35,000 members worldwide.
In 2009, Peugeot followed suit, and in March this year BMW launched a car-share venture that will make 800 BMWs and Minis available to subscribers in Munich and Berlin.
BMW hopes to use the model to attract one million new customers by 2020.
Consultant Rachel Botsman believes that the trend towards collaborative consumption means companies like these are changing from product-based businesses to services models.
Her new book, "What's Mine is Yours: How Collaborative Consumption is Changing the Way We Live", explains why this type of shared economy is a very modern phenomenon.
"All around us we're seeing a resurgence of community both in the virtual and the real world," she told BBC World Service's One Planet programme.
As technology develops, it provides us with more and more platforms through which we can share information and resources - social networking, online marketplaces and GPS technology have all had a huge impact.
Coupled with this is the widely accepted idea that there is a pressing environmental need to limit consumption. Producing more products - though they may be greener - is not the answer.
Another major factor is the global recession, which has had a profound effect on the way we spend.
"People are really assessing what makes them happy and how they can really access what they want and need," adds Ms Botsman.
Community spirit
And it is not just the automotive industry that is embracing the trend.
Movie rental sites are becoming increasingly popular with YouTube recently joining iTunes, Netflix and Amazon with a new on-demand rental service.
Fashion sites that allow customers to borrow designer items are also becoming increasingly popular. In the UK, the site Girl Meets Dress launched in 2009, and its success has inspired other websites such as Wish Want Wear, which launched this year.
Non-profit groups are also a similar model. StreetBank in the UK is an online platform where members can offer to exchange goods and services. It was founded by Sam Stevens.
"I saw someone with a hedge-cutter and thought I need to cut my hedge" Sam explains. "But I didn't really have the courage to ask.
"Then I thought, this is crazy that every house on the street should have a hedge cutter."
The aim of the group is not just to share tools, but to change people's attitude to consuming while at the same time re-igniting relationships between neighbours.
"I think there is a difference between consumption - which isn't great - and enjoying the material things that we have in a really full way," says Stevens.
It seems that now, as adults, we may be forced to learn to share again.
Companies like Zipcar are proving there is more than just community to gain, and no one understands this better than Ms Botsman.
"It sounds like I'm an evangelist here," she says, "but on the capitalism front, a lot of these entrepreneurs and these companies are starting to make serious amounts of money.
"They are the darlings of the venture capital world."