Europe's hotels enjoying recovery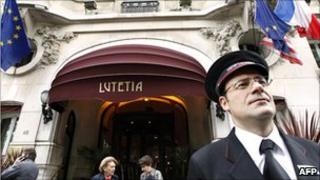 As European economies attempt to recover from the financial crisis, there is one sector that already appears to be well on the road to recovery - hotels.
The hospitality industry has seen an improvement like no other in the last two years, according to Intercontinental Hotels Group (IHG), whose chain of hotels includes the Intercontinental, Crowne Plaza and Holiday Inn.
"For the first time, the demand for rooms across the world over the past year exceeded demand before the recession," says Kirk Kinsell, Europe, Middle East and Africa president for IHG.
"It really was the sharpest recovery in the history of the industry."
One only needs to look at the group's financial results to see that he is not exaggerating.
IHG reported full-year profits of £247.8m in 2010, marking a huge turnaround from the previous year's loss of £39.9m.
'Black Death'
When the downturn began, hotels braced themselves for a tough period as both business and leisure travellers began to cut back.
In 2008, a report on the European hotel market by consultants Deloitte said that across the continent, revenue per available room - a good measure of the health of the sector - was down 1.5% in the year to September 2008.
At the time, Marvin Rust, hospitality partner at Deloitte, warned that the economic pain was set to move from sector to sector "like the Black Death" as the banking crisis began to have knock-on effects on other industries.
"Our previous experiences are pretty much obsolete and this period is challenging for any business model," he said. "I see no recovery in 2009 for the UK."
He was proved right. In the first half of 2009 revenue per available room fell by 11% in the UK, and by as much as 40% in some parts of Europe.
Business travellers 'key'
But towards the end of 2009, things began to improve as even though Europe was still experiencing hard economic times, people began to travel again.
Research from American Express Business Insights - the research arm of the credit card provider - suggests that spending in hotels in Europe grew by 7% in 2010, with a further 4% growth in the first quarter of 2011.
While spending is not quite back to pre-downturn (2007) levels, it is back to where it was at the end of 2008, the group says, and appears to be on an upward trajectory.
While holidaymakers have contributed to this, it is business travellers that have been a key driver of growth and are vital to the hospitality sector, making up a third of all travellers in Europe.
"Leisure travel was up in 2010 compared to previous years," says IHG's Kirk Kinsell. "This trend is continuing in 2011, but is also supported by the return of the business traveller."
Sujata Bhatia, vice-president of American Express Business Insights Europe and Asia, agrees.
"Business travel grew by 10% across Europe [in 2010]," she says.
"Business travellers are coming back and they are spending."
Asian influence
It's not just hotels in Europe that are seeing a rebound in business.
According to a study by PKF Hospitality Research, US hotels reported an average 9.8% increase in profits in 2010.
So is the industry in confident mood?
Mr Kinsell certainly is. He highlights the importance of emerging markets, and getting your brand known in Asia, particularly in China, as it will be travellers from this part of the world that will be increasing in number.
"The importance of having a presence in Asia will only increase," he says.
"Today there are 20 million outbound trips from China every year. By 2015, that will increase to 100 million. This alone will grow the outbound international travel market by 25%.
"We expect demand for hotel rooms from Chinese travellers to overtake demand from the US by 2025."
And he is particularly bullish about the UK: "The royal wedding, together with international events such as the Olympics and the Queen's Diamond Jubilee, mean that it will be a busy couple of years for the hotel industry."