How credit card lenders can trip up when chasing debts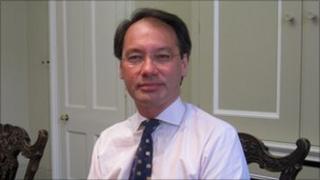 The recent case of Keith Harrison has highlighted an important issue for borrowers and lenders.
Some courts are siding with people in debt, if their lenders, such as credit card companies, have failed to abide by the strict requirements of the consumer credit laws.
Typically these borrowers have not denied running up debts on their cards.
But they have challenged their lenders to prove they have jumped through all the hoops necessary to get their money back.
Section 78 of the Consumer Credit Act demands a credit card lender supplies what is known as a "true copy" of its original loan agreement if the borrower asks for one.
This must show all the original terms and conditions (T&Cs), including information such as the rate of interest.
A number of recent cases have shown providing a satisfactory copy can be difficult if a lender has lost, thrown away or poorly archived some of its original documentation.
And that can mean the lender fails to get its money.
"In the past some of the really well known banks have not kept copies of standard form agreements," says Ray Cox QC, a leading barrister specialising in banking law.
"In the past it hasn't mattered too much - now the agreed terms are an Exocet [missile]," he says.
Fundamental breach
Mr Harrison had gone to court to stop a debt collection company, Link Financial, forcing him to pay more than £20,000 outstanding on his credit card.
He was able to convince the High Court that MBNA, the original card issuer, had probably not supplied him with the required T&Cs when it had first issued him the card in 1998.
That is a fundamental breach of the regulations and can mean the debt is completely unenforceable.
The judge's decision hinged partly on the fact MBNA could not provide a completely accurate copy of the standard loan agreement that applied to Mr Harrison, even though his was one of five million sent out in a marketing mailshot.
The card company revealed to the court it did not have a library of those standard form documents issued before 2004.
The MBNA witness, a senior in-house lawyer, said to find the forms, which had not been kept in an archive, she had had to search filing cabinets, the desks of MBNA employees and even the lofts in bank buildings.
Even then, the reconstructed copy was not completely accurate as it mis-stated, slightly, the rate of interest that had been applied to Mr Harrison's account.
His solicitors, Watsons of Llandudno, say this highlights a wider problem for lenders.
"We have had a number of cases where the bank has not been able to comply with section 78," says Paul Tilley, a litigator at Watsons.
"We are able to show that the banks have not got it right all the time - we are not able to rely on what they say," Mr Tilley adds.
The true copy
The courts normally accept a lender's word on all this, as issuing the T&Cs and obtaining a signed application form is standard commercial practice, required by law.
A ruling in 2009 by Judge Waksman at the High Court in Manchester established it was not necessary for a lender to provide the original credit agreement, or even a direct copy, such as a fax or scan.
He ruled it was perfectly acceptable to provide a copy of the agreement reconstituted from other bank sources, so long as it accurately and honestly told the borrower the original terms and conditions, and any subsequent changes.
On the face of it, providing a reconstituted copy should not be too difficult for a well organised bank or credit card firm.
However Ray Cox QC says this is in fact becoming a significant problem for them.
"What you get is lenders coming forward with what they say are likely to be the terms that would have been sent at the time," he says.
"In reconstituting, sometimes they simply can't find the original agreements. Sometimes they can, but they can't find the all requisite terms," he adds.
The lenders reply
A spokesman for MBNA said that until claims management companies started asking for them a few years ago, it had rarely been asked for historic, as opposed to current, terms and conditions.
And the spokesman denied the bank in fact had any problem finding old documents.
"We have a full archive of agreements and a library of terms and conditions in place, which is good industry practice," he said.
"In some cases we may consider reconstituting a credit card agreement because the original agreement is not readily legible or has been lost in archives, as approved in the High Court case, Carey v HSBC Bank, 2009."
The trade association for lenders and debt purchasers, the Credit Services Association (CSA), says there are no statistics on how often lenders failed to enforce their debts because of defective paperwork.
But its chief executive, Peter Wallwork, says it is uncommon.
"The feeling is that it is a very small proportion - people do challenge, but our members do usually get the supporting material," he says.
And he denies that debt purchasers, such as Link, Cabot or Phoenix, are in for a nasty surprise because the original lenders sometimes cannot come up with the right information.
"Debt purchasers are not waking up and suddenly finding they have a problem on their hands," Mr Wallwork says.
Open season?
A few years ago, lenders were being plagued by cases, often instigated by claims management companies, in which it was argued that failure to supply an exact copy of an original loan agreement meant the debt was permanently unenforceable.
The Waksman ruling squashed that erroneous interpretation of the law.
Bob Imrie, a well known specialist in consumer credit law, doubts that it will become open season again for debtors to challenge their lenders.
"The problem with section 78 cases is that the debt is only unenforceable while the error persists," he warns.
"If they [the lenders] find the right information and supply it to the debtor they can proceed to collect their debt as before.
"The banks have lots of money to sue people - unless there is something really wrong, the debtors may still have problems," he adds.
Even so, Mr Cox perceives a looming problem for some lenders.
"They [the banks] have just relied on being able to go back and find what the terms would have been," he says.
"What we will get is more of these cases where the court investigates exactly what is or is not satisfactory."