Australia unveils tough spending cuts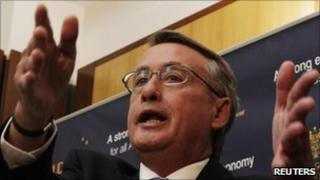 Australia is to cut government spending by 22bn Australian dollars ($23.7bn; £14.5bn) as it aims to post a budget surplus by 2012-2013.
The country, which is enjoying a mining boom, is to make the spending reductions over the next five years.
Treasurer Wayne Swan said the savings would be made by trimming the country's welfare spending and tax rebates.
The cuts come despite the cost of repairing flood and cyclone damage in the state of Queensland this year.
"The floods and Cyclone Yasi will cost our economy 9bn [Australian dollars] in lost output and reduce real GDP growth by half a percentage point in 2010-11," said Mr Swan.
He added that the earthquakes in Japan and New Zealand would also hit the Australian economy, but that his government still had to impose the strict spending cuts to ensure "our country lives within its means".
The Australian government expects the economy to expand by 4% this year.
The country's mining boom is being led by iron ore exports, predominantly to China.