Middle Eastern airlines feel pain of political unrest
By Katy Watson
Business reporter, BBC News, United Arab Emirates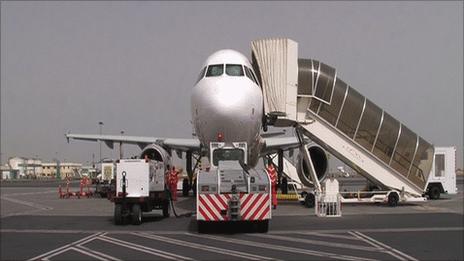 Gulf airlines have built an enviable reputation in recent years. The "big three" - Qatar Airways, Abu Dhabi's Etihad and Dubai-based Emirates - have grown rapidly, eroding market share from other, more established airlines.
But this has led to some jealousy from the European airline industry, which has accused some Gulf carriers of competing unfairly.
The region's airlines have hit back, saying European carriers need to stand up to competition because those in the Gulf are not going to go away any time soon.
Despite this war of words, the entire industry is now facing challenging times. Political unrest in the region has played its part in driving up global oil prices and that is having an impact on airlines' bottom lines.
So much so that the International Air Transport Association (Iata) recently warned that airlines across the world would see their profits fall by 46% this year compared with last.
Just last week, Emirates's president, Tim Clark, said fuel prices now accounted for more than 40% of the airline's total costs - up from 12% to 13% a decade ago.
He also warned that low-cost carriers would be the first to go, if oil prices stayed high.
But despite those warnings, the Middle East's biggest low-cost carrier is looking on the bright side.
"Our business is very regional and of course every country that's gone through abnormal circumstances recently, those are the countries that we do quite a lot of business in," says Air Arabia chief executive Adel Ali.
"In the transport and travel industry, at difficult and good times, people do travel. They're travelling today for different reasons and their purpose of travel to those areas that are disrupted has been to catch up with the family and make sure they are there at difficult times. So in certain areas we actually had an increased business."
One advantage Air Arabia has is that it is based in Sharjah, one of the seven emirates that make up the United Arab Emirates (UAE).
The UAE is one of the few countries that has not seen political unrest in recent months.
Oman is not so lucky. Omanis have been protesting over better wages and social conditions and its flag carrier has had to double some staff salaries to put an end to strikes.
But for Oman Air, unrest is the least of its problems.
"We've had our share of the social unrest that's been developing in this part of the world. Situations have developed and grievances have been addressed straight away," says Philippe Georgiou, chief officer of corporate affairs at Oman Air.
"To my mind, the danger doesn't lie in social unrest. But what do you do about an oil price that keeps increasing? You can't pass all the costs to the passengers."
And for some airlines, all of this has proved too much. Kuwaiti carrier Wataniya Airways stopped flying in March, citing the political and security situation in the region as one of the reasons for its failure.
For some experts, the current situation being faced by airlines with exposure to the Middle East will be a true test of the industry.
"The difficulties being faced right now by the Middle Eastern aviation world undoubtedly are going to separate the men from the boys," says John Strickland, director of JLS Consulting.
"We haven't seen the wholesale bloodletting that's gone on in other parts of the world but I think in a more restrained way there will be more consolidation in the Gulf."
Related Internet Links
The BBC is not responsible for the content of external sites.