Samoa to jump forward in time by one day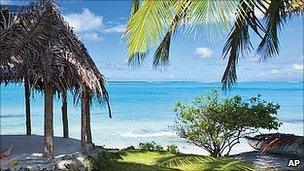 The South Pacific island nation of Samoa is to jump forward in time by one day in order to boost its economy.
Samoa will do this by switching to the west side of the international date line, which it says will make it easier for it to do business with Australia and New Zealand.
At present, Samoa is 21 hours behind Sydney. From 29 December it will be three hours ahead.
The change comes 119 years after Samoa moved in the opposite direction.
Then, it transferred to the east side of the international date line in an effort to aid trade with the US and Europe.
However, Australia and New Zealand have increasingly become Samoa's biggest trading partners.
Samoan Prime Minister Tuilaepa Sailele Malielegaoi said: "In doing business with New Zealand and Australia, we're losing out on two working days a week.
"While it's Friday here, it's Saturday in New Zealand and when we're at church Sunday, they're already conducting business in Sydney and Brisbane."
Samoa is located approximately halfway between New Zealand and Hawaii and has a population of 180,000 people.
Related Internet Links
The BBC is not responsible for the content of external sites.