UK should not help any second Greece bailout - Osborne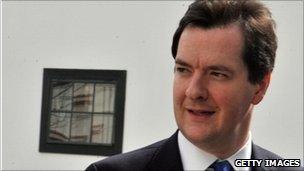 Chancellor George Osborne has said he does not want to see the UK be part of any further bailout of Greece.
It comes after ministers from five eurozone countries met on Friday to discuss the financial situation of Greece, Portugal and Ireland.
A year ago Greece accepted a 110bn euro ($136bn; £94bn) loan to finance its huge deficit.
"We certainly don't want to be part of any bailout of Greece, a second bailout of Greece," Mr Osborne told the BBC.
Ministers from Germany, France, Italy, Spain and Greece met on Friday evening for informal talks in Luxembourg.
A report in German magazine Der Spiegel said the meeting was about Greece readopting its own currency. But this was categorically denied by Germany and Greece.
Mr Osborne said that Greece had to address "several difficult questions" over how it was going to borrow money from the markets, which are "sceptical" about the country's ability to repay its loans.
"I certainly don't think it's inevitable that Greece is going to default," Mr Osborne said.
"I think it's inevitable that we are going to look at the Greek package and see what they can do to get through next year, but that might involve additional assistance from, for example, the eurozone."
Greece was the first of three eurozone countries to request financial assistance from the European Union and the International Monetary Fund.
Ireland followed suit in November 2010, while Portugal was bailed out last month.
The chancellor said that the UK was a "reluctant participant" in the bailout of Portugal.
"I didn't sign up to that approach. It was something signed up to by my predecessor," he added.