Republic of Ireland to get 'EU loan rate reduction'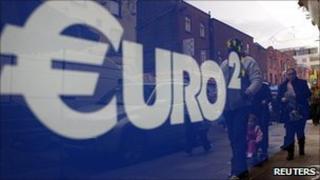 Ireland is to get an interest rate cut on the emergency loans it has acquired from EU bodies, the BBC has learned.
Currently, Ireland pays an average rate of 5.8% on loans agreed with the IMF, fellow Eurozone countries and a special fund set up by the European Commission.
It is unclear how much of a cut this will entail, but a 1% cut could be worth up to 400m euro ($572m; £349m).
Sources say a special written procedure will be adopted ahead of the meeting of EU finance ministers on 17 May.
This speeds up the implementation of a rate cut as it would bypass the need for a full vote by all 27 EU commissioners on the matter.
Concessions?
Although Britain is not a member of the Eurozone, it would be involved in any agreement to change Ireland's bail-out loans.
That is because the UK pays into the European Financial Stabilisation Mechanism as part of the EU Commission's budget affecting all 27 member states.
Britain is also making a bilateral loan to the Irish government of £3.2billion (€3.8bn).
Last November, Ireland applied for a package of loans from the IMF and EU worth €85bn - €17.5bn of which comes from Ireland's own National Pension Reserve.
It is unclear what type of concessions Ireland will have to make under the terms of any rate reduction.
The Irish government has long said that it would never give up its low corporation tax rate of 12.5% as part of any deal, even though France and Germany have argued that some change to that rate would be required.
EU watchers have suggested that Ireland may need to change its corporation tax base rather than the 12.5% rate.
That could mean that large firms headquartered in Ireland might only be allowed to use revenue earned in Ireland rather than EU-wide for corporation tax purposes.
The Irish government spokesperson said: "The reduction in the interest rate has still to be agreed by the member states and this will be discussed in due course".
Some of the world's largest companies have their EU bases in Ireland including Facebook, Google, Intel and Microsoft.