China's thirst for luxury is a boom for yacht builders
By Katie Hunt
Business reporter, BBC News, Hong Kong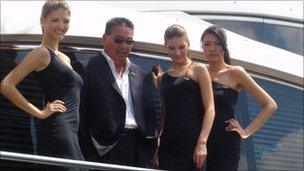 Sat on a sun-dappled deck of a 60-foot yacht sipping an iced-coffee and smoking a cigarette, Gordon Hui looks pleased with himself.
Mr Hui, the boss of the Asia operations of UK yacht-builder Sunseeker, is poised to seal a massive deal worth potentially up to 20m pounds ($33m) to sell five yachts - two over a 100 feet (30m) - to a mainland Chinese customer.
"They've done their research. They are just coming to talk delivery times," he says in between meeting prospective customers at the Hong Kong Gold Coast Boat Show.
Mr Hui says the market in China for the deep-hulled, handcrafted luxury yachts that Sunseeker produces in Poole, Dorset has ballooned from "nothing" two years ago.
Since then Sunseeker, which makes 230 boats a year, has sold around 25 yachts to Chinese customers.
China's seemingly insatiable appetite for luxury is a boon for yacht-builders, and other makers of luxury goods, at a time when traditional markets in Europe and the US are struggling.
"They get the watch, they get the flashy car and then they get a yacht," says Silva Yim, the Hong Kong-based dealer for Princess Yachts, a UK company based in Plymouth.
But it is not all smooth sailing in China for the predominantly European makers of these rich man's toys.
No-one doubts that China's billionaires have deep enough pockets and a taste for ostentation that a super-yacht amply satisfies.
But high taxes, onerous regulation and a lack of suitable marinas and berths may limit the industry's expansion.
Yacht builders also face emerging competition from local upstarts keen to get a slice of this lucrative market.
Nestled among the Italian and UK-made yachts at the Hong Kong boat show were several Chinese-made vessels.
Yacht builders are keen to cater to the different tastes of their Chinese clients.
Mr Yim, of Princess Yachts which is now owned by LVMH Moet Hennessey Louis Vuitton, says that the Chinese like to use their yachts for relatively short periods at the weekend with the family or to entertain clients.
He adds that open deck areas are smaller as Chinese are not usually devotees of sun-bathing and water sports.
Instead they prefer more inside space to host their guests.
One recent client asked for the master bedroom to be turned into a karaoke parlour, notes Mr Yim.
Despite an 18,000km coastline, extended trips around the Chinese coast are difficult because there are strict rules on where private boats can sail.
Boat owners require special permits to travel on their yachts from province-to-province and large yachts are treated as commercial ships.
There is also a lack of marinas and the ones that do exist are hardly Monte Carlo standard.
"Once China opens up its coastline, it will become like a new French Riviera," says Albert Wu, general manager of the Gold Coast yacht club.
Demand for yachts is also growing despite a 43% tax on boats imported into China - although many buy and keep their vessels in Hong Kong to avoid paying the duty.
From a distance, the 86-feet Accelera looks like the other Italian, US and British made yachts on display at the boat show, with its sleek hull and sharp lines.
But made at a shipyard in Zhuhai, a mainland Chinese city about two hours from Hong Kong, it costs HK$6.8m (£0.5m; $0.9m) - less than a third of the price of its international rivals.
Samuel Wong, executive director of the company that built the boat, says he chose Accelera as the company's brand name because "it sounded Italian".
His father's shipyard used to build fishing and houseboats but Mr Wong believes his new approach will pay off as the existing international super-yacht brands are not yet well established in China.
"The engine and electronics are the same as the international brands - it's our labour costs that are cheap," he says.
Inside the yacht, which boasts a karaoke lounge complete with a disco glitter ball, it smells synthetic and compares poorly to the glossy interiors of its European rivals.
But Mr Wong and the half a dozen other Chinese yacht builders that have sprung up are a tangible example of China's move away from mass production into higher value goods.
The buyer of Mr Hui's five Sunseeker yachts, Frankie Chan, is matter-of-fact about their bumper purchase when I contact him by phone.
Mr Chan is the vice president of Oursjia, a members-only luxury rental company based in the southern Chinese city of Guangzhou.
The company looked into to buying the yachts just three months ago in response to demands from some of their 500,000 clients.
They pay a membership fee of 20,000 yuan (£1,900; $3000), which gives them access to rent a car from the company's fleet of 3,000 luxury vehicles and or items from a range of designer furniture.
It estimates that 50,000 of its clients are potential users of the yachts, which come with their own captain and crew provided by Sunseeker.
And, it appears super-yachts are not the only items on their clients' wish lists.
"My boss is flying to Europe next week to inquire about buying a private jet," Mr Chan says.