Protests over a place in the sun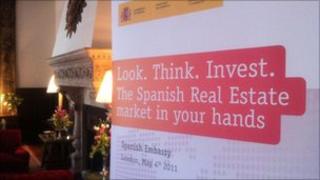 More than 500,000 British people bought property in Spain in the boom years and many of them have horror stories to tell.
Those who have merely seen the value of the property fall by up to 40% are the lucky ones.
Others have found themselves owning a share in an unfinished building site or have even seen their dream homes bulldozed.
Now the Spanish government is touring northern Europe trying to persuade buyers to return.
Jobs
It is an important issue for Spain. Just four years ago, one in five jobs in the country were connected to the property sector. Now one in five people are unemployed - and that ratio doubles among the young.
Spain's Housing Minister Beatriz Corredor believes prices are now so low they are a bargain. She says the widely reported problems faced by many foreign buyers belong firmly in the past.
"At the height of the biggest boom in 2008, we calculate that prices were 30% higher than they should have been," she says.
"But we have never made any predictions about how much prices are going to fall. We think the market has now levelled out."
However, two private sector property price indices have recently reported that Spanish house prices fell in April.
Protest
As the Government presented its case to investors and the press at the Spanish embassy in London, a different story was being told on the pavement outside.
A protest was being staged by a group of British people, some of whom had lost their life savings trying to buy a Spanish dream home in the sun.
Julie Wakeman says she never got the chance to play a part in the Spanish economy.
"Five years ago we went to see a development by one of the largest builders in Spain. We came home, we researched everything," she says.
"We researched the developer, we researched the site. We did it properly. I had some inheritance money, which we put forward, and we have not seen anything.
"The developer got into problems. There is absolutely nothing on the site apart from the original four show homes and we cannot get our money back. The guarantee issued by the bank turned out to be worthless."
Caroline Kerr is another angry buyer. She says her family has lost 300,000 euros (£266,000) and the Spanish government has done nothing to help.
"My husband and I invested in a property in Spain which had a full bank guarantee, so we thought we were absolutely safe," she says.
"We then found out the property was completely illegal.
"Either the minister for housing is unaware of the situation - of what is happening not just to British people, but to people in her own country - or otherwise she is just not interested in the welfare of people like myself."
'Trust'
Back inside the embassy, the minister insists such cases miss the bigger picture.
"The British are buying. There are nearly one million British residents in Spain and 23% of all foreigners who buy property in Spain are British. They trust us," she says.
"We believe the best weapon against uncertainty and insecurity is to be completely transparent and share all our information. That is why we are publishing an easy-to-follow guide on how to buy a home in Spain safely."
Spain's government may be optimistic, but not everyone is convinced.
In financial markets there are concerns that Spain could be the next European country to follow Greece, Ireland and Portugal in asking for a bailout.
Developments the size of small towns are already standing empty.
Potential foreign buyers need to decide whether today's prices are a bargain or whether even current levels will look expensive if yet more developers are forced into bankruptcy.