Funding scheme aims to help small firms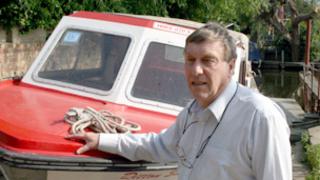 A core part of Jeremy Munk's business is hiring out boats for a few hours cruising on the River Thames.
But trade tails off in the winter months, meaning lean times for the company, Taggs Boatyard, in Thames Ditton, south-west London, between October and March.
So last autumn Mr Munk went to his High Street bank, which Taggs has been with for more than 11 years, to ask for a payment holiday on the company's loan.
But the bank said the company was insufficiently profitable.
"It was upsetting," says Mr Munk. "We are a fully solvent, profitable business, and have never missed a payment.
"But that counted for nothing in the end."
Fast service
Faced with a cash-flow squeeze, Mr Munk had a difficult winter ahead of him.
That is, until son Philip, a partner at accountancy company TWP, told him a business loan service called Funding Circle had been set up to rival the banks.
The web-based operation allows small and medium-sized enterprises (SMEs) to borrow from wealthy individuals.
Companies can borrow up to £75,000 for one or three years, with interest rates that range between 7% and 9% depending on their credit rating.
Each SME pays Funding Circle a 2% upfront charge, with the monthly interest payments going to its lenders.
The lenders pay Funding Circle 1% of sums invested.
"I did the application for Dad, and we got approval within a day, with the funds arriving within two weeks," says Philip Munk. "That is much faster than a bank."
No start-ups
Founded in London in August 2010, 165 loans totalling £5.5m have gone through Funding Circle, from more than 3,000 lenders.
And while Funding Circle typically attracts wealthy, the minimum investment level is just £20.
But what happens if one of the SMEs misses its monthly payments, or goes into administration?
"That hasn't happened yet," says co-founder and director James Meekings.
"We have a very thorough team of underwriters, who check each applicant company very, very carefully.
"And we don't invest in new start-ups, instead we only invest in well established and proven companies.
"We aim to remove as much risk as possible from the equation.
"Also, investors are encouraged to spread their money across a wider number of firms.
"We are also not complacent. It will have to happen eventually - that a company misses its payments.
"When that happens we will respond exactly like a bank, and go through the court system."
'Niche lender'
Another small company that has gone to Funding Circle for investment is Japanese food importer Clearspring.
Its finance director, Bob Harrop, says: "We are a growing company, we have our ups and downs, and banks have been very reluctant to lend us the money we need based on our financial base.
"So we have had to go out to private investment.
"We have found that the Funding Circle have been very flexible in providing to us - as an established credit worthy business - a range of small investors who are willing to put their money in. Perhaps at a higher interest rate than the banks."
But while the UK's banks welcome competition, they point out that they offer SMEs a number of advantages over Funding Circle.
Peter Ibbetson, small business chairman at NatWest and RBS, says: "The Funding Circle is more of a niche lender, whereas we support all businesses by offering a full range of competitive lending products."
"How this model differs to a High Street bank is that depositors are more like actual investors who are looking for a higher yield than just depositing their money with the bank."
"As a result, he said that firms going to Funding Circle had to pay more for their loans."
This view is echoed by the British Bankers Association (BBA), which represents the banks in general.
"The banks tell us they are currently approving four in every five applications from businesses," says a BBA spokesman.
"And our own figures show that at the end of last year small businesses had a record £59.1bn on deposit with banks."
Stephen Pegge, head of external affairs at Lloyds TSB Commercial, says the main banks continue to approve most credit requests from small companies.
He adds: "The figures speak for themselves. We approve eight out of 10 requests for finance - a figure that is unlikely to be matched by smaller providers.
"And almost 80% of our new lending is at an interest rate of less than 4%."
But back at Taggs Boatyard, Mr Munk says he is very pleased to have secured a loan from outside the banking community.
And the company - thanks to warm weather - has celebrated one of its busiest ever Aprils.