Warner Music bought by Blavatnik's Access Industries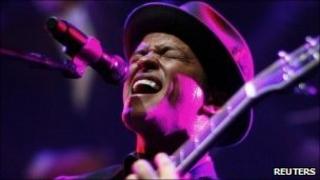 Warner Music has been bought by an industrial group whose holdings range from oil and aluminium firms to the UK's Top Up TV.
Access Industries, run by Russian born billionaire Len Blavatnik, paid $3.3bn (£2bn) in cash for the world's third largest music firm.
Warner, whose artists include Bruno Mars, has been struggling with declining sales and profits.
Access Industries already owned a small stake in the US firm.
Mr Blavatnik said he was "excited" to be extending his involvement in the firm.
Warner Music Group, whose entire music and publishing businesses have been sold, will become a private company with its shares delisted from the New York Stock Exchange.
Chairman Edgar Bronfman said Access Industries was "supportive of the company's vision, growth strategy and artists, while bringing a fresh entrepreneurial perspective and expertise in technology and media".
"Most importantly, Access supports Warner Music's commitment to our recording artists and songwriters who are the foundation of our current and future success," he said.
The sale of Warner Music marks "the end of the public pure-play music studios, which have been under attack from independent labels started by musicians and under fire from the Internet," remarked Jon Ogg, an analyst with 247WallSt.com.
There are rumours that Mr Blavatnik also wants to add EMI to his portfolio of businesses.
In addition to its heavy industrial interests, his US-based Access Industries also owns the UK arm of film and TV distributor Icon.
Mr Blavatnik, who has an estimated fortune of $7.5bn, is a director of Russian oil firm TNK and aluminium giant Rusal.
Warner shares rose 3.5% during Friday trading to close at $8.18 on Wall Street, just short of the $8.25 per share sale price.