Cheque abolition 'devastating' for charities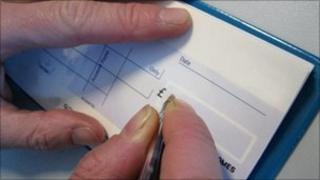 Abolishing cheques could have "devastating consequences" for charities' income, according to a fundraising body.
The Institute of Fundraising has told MPs that typically more than 70% of charity donations are made by cheque.
The UK Payments Council is planning to phase out cheques by 2018, but only if viable alternatives are found.
It has said that the use of cheques is in "terminal decline" as consumers turn to more automated payments.
Letter campaign
The Treasury Committee studied the planned abolition of cheques a year ago.
However, following a flood of letters to MPs on the committee from those uneasy about new technology, it has decided to reopen the inquiry.
The deadline for submissions has now been reached, and charities have been at the forefront of the battle to save the cheque, or at least delay the abolition.
Louise Richards, director of policy at the Institute of Fundraising, told the BBC that charities with an older supporter base could lose a huge chunk of donations as a result of the end of cheques.
"Over six million people aged over 65 in the UK do not have access to the internet," she said.
"If they cannot give by cheque, then they will not give at all. Potentially this could have devastating consequences for charities across the board."
Alternatives sought
Some three million cheques are written every day in the UK compared with 11 million 20 years ago, according to Sandra Quinn of the Payments Council.
Alternatives to the cheque would need to be "available, acceptable and widely adopted" before the cheque system was abolished, she said, with a variety of alternatives the likely replacement.
She said she understood the views of charities and small businesses, and the council had consulted more than 300 groups of cheque users.
Those consultations will continue and a final decision to switch off the conventional cheque clearing system is scheduled to be made in 2016.
However, if the 2018 target date is deemed not feasible, either in 2016 or at an earlier review date of 2014, then the plan could be revised or the implementation date moved.