Royal Bank of Scotland losses widen in first quarter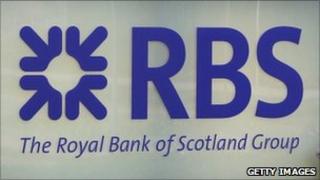 Royal Bank of Scotland has seen its net - or attributable - losses widen in the first quarter, hit by its exposure to the troubled Irish economy.
RBS, which is 84%-owned by the UK government, reported losses of £528m, compared with losses of £248m in the first quarter last year.
But at an operating level the bank reported a profit of £1.05bn.
RBS did not estimate its potential liability to payment protection insurance (PPI) compensation claims.
But it said the eventual cost could prove to be "material".
The results come a day after Lloyds Banking Group said it was setting aside £3.2bn to pay compensation to customers who were mis-sold PPI.
Recovery
The bank's attributable loss included a charge of £469m from a market valuation of credit insurance provided to RBS by taxpayers under the Asset Protection Scheme (APS).
Meanwhile, its insurance arm, which RBS is committed to disposing, returned to profit.
RBS also revealed impairment charges of £1.95bn, including a charge of £1.3bn in relation to Ulster Bank, which is exposed to the struggling Irish economy.
RBS chief executive Stephen Hester said the results showed continuing progress.
"This recovery is allowing us to absorb higher Irish impairments and substantially increased regulatory demands, and to self-fund other 'bills from the past' such as restructuring, disposals and the cost of APS support," he said.
BBC business editor Robert Peston agreed that the bank had made progress on many measures.
"The good bits of the bank, what it calls the core, improved their earnings and the bank improved its resilience to withstand future accidents," he said.
The results perhaps move RBS a little nearer to privatisation of the government's huge stake, he added.
Shares in RBS rose 5% in morning trading.
Richard Hunter, head of UK equities at Hargreaves Lansdown Stockbrokers, said there were improving prospects at the bank, with investment banking and insurance contributing "decent" performances, and general impairments decreasing year on year.
"In all, there are some signs that the recovery continues at RBS, even if numerous and significant hurdles remain."