Liverpool set to reveal £20m loss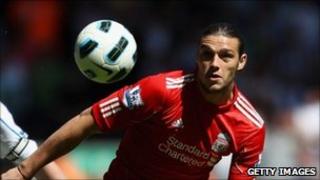 Liverpool will reveal a £20m loss for the last full year of the reign of former owners Tom Hicks and George Gillett, the football club has said.
Although revenues rose to £184m in the 12 months to July 2010, net debt also increased to £123m, incurring interest payments of more than £17m.
US company Fenway Sports Group bought the club for £300m in October 2010.
Fenway, formerly known as New England Sports Ventures (NESV), has since paid off £200m of debt.
The latest accounts do not include the debt repayment, nor do they include income from the £80m four-year shirt sponsorship deal agreed with Standard Chartered in September 2009.
In a statement on its website, the club said it would publish its end of year accounts later on Thursday.
Despite the loss, Liverpool's managing director Ian Ayre sought to reassure fans that the club had a bright future.
"Since the end of the last financial year, Fenway Sports Group has paid off £200m of acquisition debt from the previous owners, dramatically reducing interest payments as a result and meaning we are able to invest more revenue in the team rather than servicing debt," he said.
"We have also enjoyed significant commercial growth since these accounts were finalised, including our shirt sponsorship deal with Standard Chartered, which was the largest partnership contract in the club's history."
He added that the club had had an "extremely successful" January transfer window.
During the transfer window, Liverpool sold Fernando Torres to Chelsea for a British transfer record of £50m, but bought Uruguayan Luis Suarez from Ajax for £22.7m and Andy Carroll from Newcastle for £35m.