Growing Africa 'must diversify'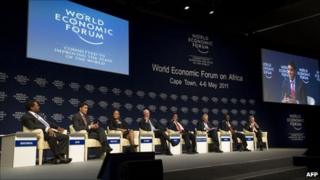 Africa is feeling good about itself.
With the continent expected to grow by 5.5% in the next year - above the global average - there are plenty of wide smiles and crisp new suits at the World Economic Forum on Africa this year.
And as if the figures were not enough to make the leaders feel they are in the premier league - not least South Africa, which has just entered the inner sanctum of the Brics group of countries - there is the spectacular Cape Town stadium that hosted last year's football World Cup, glistening in the coastal sun.
But the continent's business leaders and politicians are being cautioned not to take their eye off the ball.
"The primary responsibility for progress remains with ourselves - with African leaders and their population - who need to translate the continent's wealth into results and for the benefit of the people," says former United Nations Secretary General Kofi Annan.
"On one hand we've seen encouraging success stories, but there is no doubt that we have a lot to be done and there are many challenges ahead."
Changing focus
The very factor that protected Africa from the global economic slow-down is the obstacle preventing it from diversifying.
That is the stark message from the Africa Competitiveness Report.
Its author, Dr Jennifer Blanke, from the Centre for Global Competitiveness and Performance, says: "African economies are not being integrated into the global economy and in the long run that will erode the continent's competitive edge."
In practice, that means relying less on raw materials, especially minerals, and investing more in human capital, especially women.
It also means growing the financial services sector and developing infrastructure so the continent's substantial agricultural potential can be realised and its produce distributed more effectively.
Joining the dots
Many smaller African countries are accused of trying to "punch above their weight", opting for vanity projects rather than enhancing trade ties with each other and "doing business next door", says Dr Blanke.
Tanzania has just signed up to a deal that hopes to combat that by establishing a World Trade Center in Dar es Salaam to leverage investment and create jobs.
The World Trade Center brand - based on the New York model and now operating on more than 150 sites worldwide - acts as a "one-stop shop to provide a safer platform for investors and businesses alike to strike deals", says Ahmed Said Sibda, who heads up the Cape Town World Trade Center, one of 14 in Sub-Saharan Africa.
The idea is not simply to put African businesses on a competitive level playing field with China, India and North America, when it comes to accessing expertise.
The centres also seek to join the dots when it comes to large infrastructure projects.
"For example, instead of just building a railway line in East Africa to transport agricultural goods speedily, we also find investors to build cold storage and warehousing facilities at the same time," says Mr Sibda.
Creative nurturing
The cultural and tourism sector also have enormous growth potential, according to economists.
Enter two handsome Nollywood stars - Desmond Elliott and Ramsey Noah - despatched to the World Economic Forum to promote Nigeria's burgeoning film industry - and add a bit of glitz to what is normally a rather straight-laced corporate affair.
Valued at $250m (£152m) a year, the budget films sector that is Nollywood is now being taken seriously by international finance houses and investors.
Low budget Nigerian films, feted for their dramatic appeal and stories of real African life, are in demand across the continent, spurring an appetite to grow this entertainment sector.
Nigerian President Goodluck Jonathan has earmarked $200m to nurture creative industries in Nigeria, and the World Bank is reportedly supporting the Nigerian film industry to the tune of $30m.
Infrastructure required
But M-Net Africa managing director Biola Alabi says, as is the case in many other industries, to get investors in, the government needs to assist with positioning the financial and marketing infrastructures that help support investment.
"When you are doing due diligence from a banking perspective, you need to known how many people are buying the films," he says.
"If 50 films are being distributed a week, you need to know who is buying them, to assess whether you are going to get a good return on your investment."
The sparkle of the film industry, may grab the headlines at a conference where so much of the conversations are about abstract goals such as partnerships and growth mechanisms.
But without the "infrastructure groundsheet" to provide a foundation for growth, the key message is that Africa runs the risk of being left out in the cold.