Solar panel regulator warns over door to door sellers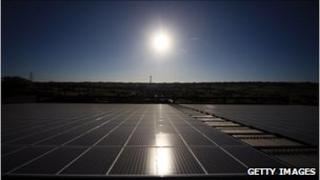 Like many pensioners, Eric Catterall was keen to use his savings to reduce his rising energy bills.
The government's new feed-in tariff, which pays for electricity produced from the sun, is proving so popular it is being reviewed to ensure more money is available for consumers.
But for Mr Catterall, trying to get the panels installed proved costly and the regulator has told the BBC it is worried that Mr Catterall and others like him risk being short-changed by unscrupulous salesmen.
Lost money
Mr Catterall's experience began in May last year when he signed a contract with a local firm Totally Solar, based out of a business park near Poole, Dorset.
The firm is not to be confused with other companies, located elsewhere, trading under the same or similar names against which no allegations are made.
Totally Solar took a £2,750 deposit and said the installation would begin in four months' time. It is now a year since the contract was signed and he still has no solar panels.
The firm did arrive to carry out what it said was the "internal work" - essential wiring including an inverter to convert the electricity produced into a form that can be used and sold to the grid.
It is often placed in the loft under the panels.
Unfortunately, on the day the engineer arrived, Mr Catterall was unwell and had limited mobility. He simply was not able to check the work.
Reassured the job had been successful, he signed it off and handed over a cheque for a further £4,000.
It turned out the company did fit some wires, which still hang loose from the roof of Mr Catterall's loft. We also found a small white box which may have been there before.
But most of the equipment specified in the contract was never put in.
"In the early days, we had something in the region of maybe a dozen telephone conversations with them to try and rearrange the dates for installation," Mr Catterall explains.
"There were at least seven dates arranged for installation, none of which were ever met, nor were any reasons given for them not coming."
On further investigation Mr Catterall discovered the proprietor of the firm as listed on his installation document, Mr Floyd Lewis, was previously banned from holding a position as a company director by the insolvency service.
The ban was issued following an investigation by the service into Solar Technik Ltd of Hinton Road, Bournemouth, which went into administration in 2008.
It was found that the firm traded in "a manner which was detrimental to both its customers and creditors".
But the ban does not stop Mr Lewis legally operating as a sole trader.
Mr Catterall has referred the matter to Poole Trading Standards which says the matter is being discussed with Dorset Police and they "continue to liaise with the Office of Fair Trading in relation to any potential breaches" of an undertaken given by Mr Lewis in 2007 regarding selling solar panels.
They were unable to comment further.
Growing problem
Mr Catterall has now got solar panels fitted from another installer, but he has not got his money back.
The industry regulator, Real Assurance, which regulates the Office of Fair Trading-backed consumer code on selling solar panels, says it is worried by an increasing number of complaints.
Despite being launched last year, the scheme has only recently generated momentum, with 10,000 installations since the start of the year and many more expected over the summer.
While most suppliers have not attracted complaints, the regulator is worried about pressure-selling by some firms.
"They target people who have maybe just retired, who have got money and are worried about electricity costs going forward," says Virginia Graham from Real Assurance.
"It's similar to solar thermal and double glazing before it. A lot of people go out there and are probably selling over the odds price-wise. They have salesmen primed that they need to get their signature on the day, in the home."
The code is designed to prevent misleading or pressured selling.
But few consumers know the code exists. Not every seller is signed up to it and not all of them appear to follow it.
As a result, the number of complaints is rising - though exact figures are hard to track due to the complexity of the process.
Depending on the nature of the problem, complaints may go to the installer, electricity supplier, Real Assurance, Consumer direct, the Energy Ombudsmen or the body who certified their installer.
Real Assurance told the BBC it had received 70 complaints relating to renewable energy so far this year - almost as many as during all of 2010.
Almost half were regarding solar PV - again an increase.
The Energy Ombudsman says it has received 28 complaints while figures from Consumer Direct - which is usually the first port of call receiving the largest number of complaints - were not available because it does not yet codify the data on the industry.
Indeed, because people will not find out if the claims made about their panels are true until they have used them for some time, and because many consumers do not know what the costs should be, most complaints are simply delayed.
Clearer rules
The complexity of the process risks leaving households vulnerable.
To install panels for the feed-in tariff, a supplier must be signed up to the government's Microgeneration Certification Scheme and, therefore, be a member of the code of conduct.
Poole based Totally Solar was not a member of the scheme, or the code, so any panels it fitted would not have been eligible under the scheme.
But Mr Catterall did not know this.
Ms Graham says in some cases the rules mean an unregulated salesman could sell the panels and take a cut before passing the deal over to a certified installer to sign the contract.
Consumer magazine Which? looked into the selling of solar panels for hot water - where there were eventually hundreds of complaints.
They say the entire industry needs clearer rules.
"If people do have problems with a solar company they should know who to go and that should be one industry body which all people involved in selling solar panels belong to," says spokesperson Jenny Driscoll.
The Department of Energy and Climate change says the issue is being looked into.