Bankruptcy: 'I was facing a lifetime of debt'
By Kevin Peachey
Personal finance reporter, BBC News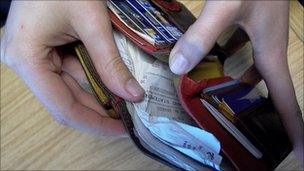 With a 10-day-old baby and separated from her husband, financial difficulties built up for Kathryn Bevan at a time of high emotion.
The 42-year-old from Liverpool was facing a complicated web of debt. She had moved house five times in as many years and had lost sight of outstanding bills at different addresses.
"I did not know where to turn," she says.
"I felt like I was going to have a lifetime of debt and just move through life trying to dodge people."
But after approaching the advice group Christians Against Poverty, she declared bankruptcy a year ago and has recently become entirely debt-free.
She is not alone. Official figures published on Friday are due to reveal how thousands of people have been dragged into insolvency since Christmas.
Becoming bankrupt is not an easy decision to make. Kathryn describes the phone call with the charity worker to outline all her debts as "the worst of my life".
The size of her debt, her small income, but her willingness to live to a budget meant bankruptcy was advised as the best path to take.
"I felt ashamed. Who was I to have all my debts written off when there are other people who work hard to pay them off?" she says.
Kathryn says that she received such good support from the charity that she is volunteering herself to help others in the same situation.
Debt advisers are clear that others can avoid being pulled into the financial and emotional whirlpool of insolvency if they seek expert advice when debt problems begin.
And in general, they say, men are less likely to follow Kathryn's example.
Advice charities, like the Consumer Credit Counselling Service (CCCS), say men are less likely to seek help for spiralling debts than women - even though men face a greater risk of bankruptcy.
There is no easy theory that explains why this is the case, especially because there is such a wide range of circumstances that could lead to debt problems.
But Una Farrell, of the CCCS, says the charity's helpline receives a number of calls from men who ring during their lunch hour to discuss serious debt problems.
"They often just hope things will get better. They do not want people, including their family, to know but they are worried about it," she says.
The greater likelihood of men going into bankruptcy is a complex result of various social and economic issues, says economic psychologist Stephen Lea, of the University of Exeter.
One significant factor, he says, is that the greater proportion of small business are run by men. When they fail, as some inevitably will, then bankruptcy is often the clearest route to take.
The average age of someone filing for bankruptcy in the UK is falling. In 2005 it was 41, but it is now estimated to be 38.
Attitudes of shame and guilt connected to bankruptcy are less extreme in younger people than the older generations, says Professor Lea.
This means younger people have a greater willingness to take on bankruptcy, he says.
He adds that young people up to the age of 25 are increasingly unaware of the long-term consequences of taking on debt.
This can lead to serious problems when a relationship breaks down, jobs are hard to find, or redundancy hits.
"It is sad and depressing that some never been out of debt since they were a teenager at home," he says.
However, he agrees with advice charities that the sooner those with debt problems seek advice, the better.
A spokeswoman for Christians Against Poverty, which has 150 church-based debt counselling centres in the UK, says that the vast majority of people who are able to pay off their debts do so, given the correct support.
"A change in circumstances, rather than overspending, is what puts people in debt and their desire is to put things right rather than wanting an easy way out," she says.
This is echoed by the CCCS, which - despite the absence of mass redundancies - has seen a shift since the economic downturn began and credit became less available.
"Generally, people owe less, but they are finding it more difficult to pay," says Ms Farrell.
Related Internet Links
The BBC is not responsible for the content of external sites.