UK interest rates kept on hold at 0.5%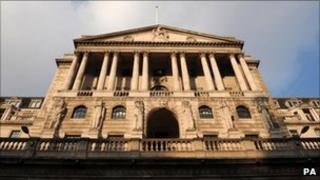 UK interest rates have been kept at the record low of 0.5% again by the Bank of England's Monetary Policy Committee.
Data this week pointed to a slowdown in growth in manufacturing, construction and services, which economists took as a sign that the Bank would not change rates with the recovery still weak.
This is despite the fact that inflation is currently at 4%, double the Bank's target rate.
The MPC did not reveal any new quantitative easing measures either.
Separately, the European Central Bank also held rates for the eurozone, after raising them from 1% to 1.25% last month.
Split committee
The Bank has faced a difficult choice - either keep interest rates low to try to aid the economic recovery, or raise them to try to cool inflation.
Raising rates takes demand out of the economy and slows down inflation.
But it also increases the cost of borrowing, and there are concerns this may tip the UK back into recession.
The economy shrank by 0.5% at the end of last year, but returned to growth in the first three months of 2011, expanding by 0.5%.
Although the Bank was widely expected to leave rates unchanged, some members of the committee have been pushing for an increase.
At the MPC's April meeting, three out of the nine members voted for a rise.
'Murky recovery'
Earlier on Thursday, figures showed that growth in the UK's service sector slowed more than expected in April.
The Purchasing Managers' Index (PMI) for services fell to 54.3 from 57.1 in March, compared with forecasts of a more modest drop to 55.7.
This followed similar falls in the PMIs for manufacturing and construction, released on Tuesday and Wednesday respectively.
"Our view remains that the Bank is likely to move away from the emergency 0.5% rate later this year," Ian McCafferty, the CBI's chief economic adviser, said.
Lee Hopley, chief economist at the manufacturers' organisation, the EEF, agreed that it was too soon for an increase in rates.
"The middling growth figures for the start of this year were unlikely to tilt the balance of votes towards a rise this month," she said.
"So long as the underlying economic recovery remains murky the case for a rate rise can't be made until it becomes clearer."
The British Chambers of Commerce (BCC) said UK businesses would welcome the MPC's decision.
"Inflation, though well above target, saw a fall to 4% in March, and combined with subdued wage pressures, the arguments for an increase in rates have weakened considerably in recent weeks," the BCC's chief economist, David Kern, said.
"At a time when the government is tightening fiscal policy through its deficit-cutting programme, premature rate increases could have a severe impact on growth and jobs."