Societe Generale profits hit by unrest in Africa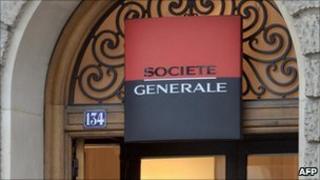 Unrest in Africa and the Middle East have weighed on earnings at Societe Generale, France's second-biggest bank.
SocGen reported lower-than-expected first quarter results, including a 61% fall in international retail earnings.
The European bank, among the most exposed to the regions, temporarily closed operations in Egypt, Tunisia and Ivory Coast because of the unrest.
First quarter profit fell 13.8% to 916m euros ($1.4bn; £823m), sending SocGen shares down 3% at the start of trade.
Revenues were slightly higher at 6.62bn euros but were still below analysts' expectations of 6.73bn euros.
On Wednesday, SocGen's bigger rival BNP Paribas beat first-quarter forecasts with a net profit of 2.62bn euros.
SocGen said that demand for mortgages and loans in France had boosted profits at its domestic retail arm.
"It's a really mixed bag. There were good results in French retail and corporate and investment banking, but that could not offset the weakness in international retail banking, which was more pronounced than expected," said WestLB analyst Christoph Bossmann.