Hydebank cell deaths: three investigations to be held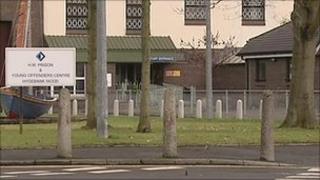 The deaths of two prisoners at Belfast's Hydebank Young Offenders Centre are to be the subject of three separate investigations.
Samuel Carson, aged 19, died shortly after 1700 BST on Wednesday despite efforts by prison staff to revive him in his cell at the prison's Elm 1 wing.
Frances McKeown, 23, was found in her cell a few hours later during a routine check by staff in Ash 4 wing.
The PSNI, coroner and prisoner ombudsman will investigate the deaths.
The prison service said a ligature had been removed from each prisoner's cell.
It said the two prisoners did not appear to have known each other and the deaths were not linked.
"There's no information or evidence at this stage to suggest there's any connection whatsoever other than that the two deaths occurred on the same day," the director general of the prison service, Colin McConnell, said.
Mr McConnell said both prisoners had in the past given staff at the prison "cause for concern in terms of their behaviour and demeanour".
"When that has occurred our staff have responded and put the appropriate protection measures in place - increased levels of supervision, perhaps one-to-one interviews with specialist staff.
"But in the weeks leading up to these events neither of the prisoners was giving particular cause for concern over and above the general concern that we have for all offenders under our care," he said.
Both the prisoners were on remand at the facility on the outskirts of Belfast.
'Tragic events'
Mr Carson had been awaiting trial on charges of sexual activity with a child.
His solicitor, Denis Moloney, issued a statement on behalf of the Carson family: "The tragic events of the past 24 hours concerning the death of a loved son, brother and father have not yet sunk in to this grieving family.
"They were informed by telephone at 6.30pm on Wednesday evening of his death," Mr Moloney said.
"The events surrounding his death will be the subject of a coroner's inquiry and we have already been in touch with the coroner's office concerning same and the release of his body."
Ms McKeown had admitted hijacking a car, possessing a knife, dangerous driving and three counts of criminal damage to police cars. She was awaiting sentencing.
In a statement, the prisoner ombudsman, Pauline McCabe, extended her sympathy to the families of both prisoners.
"In accordance with the terms of reference for the investigation of deaths in prison custody, the family of each prisoner will be offered the opportunity to meet with the Prisoner Ombudsman," she said.
"In the meantime the prisoner ombudsman has commenced investigations into both deaths."