No rules for the rich: How China spends its new wealth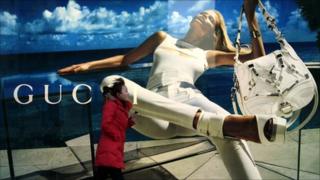 Here's a story an upmarket wine merchant told me about a particularly memorable - and potentially instructive - evening.
A group of Chinese businessmen arranged to meet up one evening for a drink. They were asked to bring their best bottle of wine.
Here was a selection of some of the best-known fine wines in the world. Chateau Lafite 1962, Chateau Latour 1970 - bottles that cost in the region of $1,600 (£1,000) each.
On arrival, the host said: "Gentlemen, show your wines," and the guests presented their bottles for each other's approval.
The host then called: "Gentlemen, uncork your bottle," which they did.
He then indicated a vast silver punchbowl and ordered: "Gentlemen, pour your wine," which they did - into the punchbowl.
The mingled contents of some of the most distinctive clarets in the world were then ladled out between them.
It is a memorable anecdote. But it is also instructive, because it illustrates the way China's new rich approach established luxury goods.
Rich keep spending
As the country sucks up more and more of the world's luxury goods production, producers are growing in their understanding of Chinese tastes.
Unlike China's middle class, which is suffering from high inflation, the rich feel no such drag upon their lifestyle.
BMW, which also owns the Rolls-Royce brand, almost quadrupled its first-quarter profits thanks in part to increased demand from China.
It joins a long list of leading luxury brands whose profits have been spurred by demand there.
According to Barclays Capital, the country now buys 12% of the world's luxury goods.
A research report from Barclays says this is set to grow by 20-30% a year. It means in five years' time China could be buying a third of the global luxury goods ouput.
That is a staggering growth rate, but if you look at the increase in the number of millionaires it is not hard to see how it could rise so fast.
There are around half a million Chinese millionaires, 31% more than in 2008, according to the most recent Merrill Lynch Cap Gemini World Wealth Report.
Donald Holdsworth, director of MatchPower in Australia, has been fascinated by China's growing love affair with luxury since the 1990s.
Little emperors
Why does he think the desire for luxury goods has seized the Chinese mind so firmly?
The answer, he thinks, is rooted in demographics: "The average age of a Chinese millionaire is 39 - that's 15 years younger than in the developed world.
"It happens to coincide with the start of the one-child-per-person policy - the year of the Little Emperors. These children were given the very best by their parents."
So the Little Emperors grew up with as many resources as could be mustered by their parents - at the same time as the economy shifted from communism to capitalism.
That, says Donald Holdsworth, sheds further light on Chinese tastes: "If you've grown up in a conformist society where there's no freedom of speech, once a chance appears for you to express yourself without danger you are going to take it.
"It's like unscrewing the top from a bottle of fizzy water."
That desire is just as well for the largely European producers of luxury goods.
LVMH - Moet Hennessy Louis Vuitton - is the world's biggest luxury brand company with more than 50 of the best-known in its stable.
Overall, LVMH already makes about 40% of its profits from the country.
Others with growing profits in the region include Burberry and German carmaker Audi, whose latest sharp rise in profits were thanks in part to a strong growth in sales of luxury cars in China.
Prada is also exploring other ways of accessing China's wealth. Like other firms it is considering raising money by issuing shares via the Hong Kong stock exchange.
And then there is Gucci, which has pushed hard in China and has some 40 outlets across a string of Chinese cities.
Easy on the ear
The recent growth in the market is pointed up in sharp detail by Berry Bros and Rudd, the upmarket wine merchants.
Wine buying director Alun Griffiths says the Chinese wine market has been growing by 15-20% a year and his firm now does 25% of its business in Hong Kong.
Five years ago that figure was barely 6%.
Chinese tastes are certainly high-end; Bordeaux, which makes some of the most expensive fine wines in the world, is a favourite. But only a few chateaux seem to interest them.
Mr Griffiths says the wine is not necessarily bought for its taste, as the opening paragraph of this piece fully illustrates, but the name is important, too.
"Chateau Lafite sounds well to the Chinese ear, in a way that other Bordeaux wines don't. That may change, but it is the label they are choosing for the moment."
Showing off
Big names are key to wealthy Chinese buyers, in part because the market is new.
Chinese tastes are likely to evolve, as has happened elsewhere.
Donald Holdsworth says if one looks at the UK market of the 1980s, Rolls-Royce cars were the favourite of the rich, giving way to the slightly more restrained Bentley, and these days to the less showy Audis and Mercedes.
"That will probably eventually happen in China, as it has in Japan, where they still love their luxury brands but in a less obvious display of wealth.
"Until then it will be a market that wants to show off."
Meantime, tales of fine wines in a punchbowl - or mixed with 7-Up or Coca-Cola - will doubtless continue to circulate.
But, as Alun Griffiths puts it: "As a wine lover it's a horror story, but you've got to let people do what they want with what they buy.
"After all, there are no rules for being rich."