Rolls-Royce and Mini owner BMW sees profits quadruple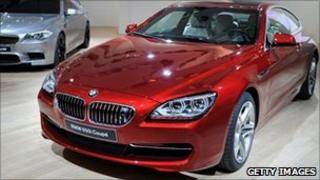 BMW has almost quadrupled its first-quarter profits thanks to increased demand from China and renewed growth in the United States.
The luxury carmaker, which owns the Mini and Rolls-Royce brands, reported net profits of 1.2bn euros ($1.8bn; £1.01bn), up from 324m euros a year ago.
The company said it had sold a record number of cars for the first quarter.
The number of Rolls-Royce cars sold doubled, while Mini sales jumped 23%.
In total, the number of BMW, Mini and Rolls-Royce vehicles sold worldwide rose more than a fifth to 382,758.
Record sales
"The BMW Group is well on its way towards achieving new sales volume and earnings records for the full year," said Norbert Reithofer, BMW's chairman.
"We are aiming for a record sales volume of well over 1.5 million vehicles as well as new full-year sales volume records for each of our premium brands BMW, Mini and Rolls-Royce."
The BMW group said it recorded growth in almost all regions, signalling continued improvement in the global economy.
Total vehicle sales in China leapt 72% on the previous year to 58,706 units, while sales in the United States grew 18% to 65,163.
The company also saw significant growth in Europe, where sales were up 13%.
Optimism
BMW said it expected to achieve higher full-year group profits than in 2010, when it made record profits of 3.23bn euros.
However the firm issued a word of caution saying the political uncertainty in the Middle East and North Africa, the repercussions of the Japan earthquake and sovereign debt crises "make the situation more volatile for the time being".
"Is it sustainable? If Chinese premium sales remain at this level, then yes, at least in 2011," said Max Warburton, an analyst at Bernstein.
"Currency, Chinese localisation and the US-EU mix may become bigger issues in future years but for now, BMW looks in a very, very good place," he said