Glencore flotation values company at about $61bn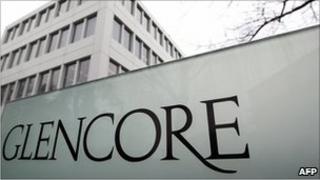 Commodities trading giant Glencore has priced its planned flotation at between 480p and 580p per share, giving it a mid-point valuation of $61bn (£36.5bn).
The flotation will be London's largest and make paper billionaires of Glencore executives, including chief executive Ivan Glasenberg.
A group of investors, including Abu Dhabi-based Aabar Investments, will take 31% of the shares being sold.
Formed 37 years ago, Glencore is the world's largest commodities trader.
Mr Glasenberg, 58, the firm's largest shareholder with about 18% of the company, will be worth about $10bn, making him one of the world's richest men.
Other key shareholders are Daniel Mate and Telis Mistakidis, who hold about 6%, and Tor Peterson, with 5.3%.
The executives will have a "lock-in" agreement preventing them selling their shares for up to five years and avoiding allegations that they are selling out of Glencore at the top of the market.
Many of the firm's other leading managers will become multi-millionaires from the flotation.
The Swiss-based company, which will also list its shares in Hong Kong, said in a statement that it would raise gross proceeds of approximately $10bn from the share flotation.
This will boost the company's firepower for deals at a time when commodities prices are booming on the back of strong demand.
Float 'well-backed'
A group of cornerstone investors have agreed to take a combined 31% stake of the shares being sold in the flotation.
Abu Dhabi's Aabar Investments, part of the emirate's International Petroleum Investment Company, was set to become the biggest investor after Glencore executives.
Aabar, which has stakes in carmaker Daimler and Italian bank UniCredit, said in a statement on Wednesday that it would invest $850m in Glencore, and possibly an additional $150m.
Financial firms BlackRock and Fidelity are also widely reported to be taking large stakes in Glencore.
Further details of the flotation are due to be released later on Wednesday when Glencore publishes the full prospectus, believed to be about 1,600 pages long.
It will give analysts a rare glimpse into a company that has become well-known for its secrecy.
John Meyer, an analyst at Fairfax, said Glencore and its advisers appeared to have reduced the value of the float to ensure that its shares got off to good start when trading began.
"We expect it to be a successful float. It's well-backed by some very high-profile cornerstone investors," he said.
But he added: "It's difficult to have expectations with a group that is as secretive as Glencore, although they are revealing more."
Last month, Glencore announced the appointment of Simon Murray as chairman.
Former BP boss Lord Browne had pulled out of the job at the eleventh hour.
Glencore employs about 57,500 people across more than 40 countries, and had net income of $3.8bn on revenues of $145bn last year.
It trades metals and minerals, as well as energy and agricultural products, and has benefited from the recent growth in demand for commodities, especially from China.
The final pricing of the shares is expected to be announced on or around 19 May.