Boom in sales of 'Osama is dead' memorabilia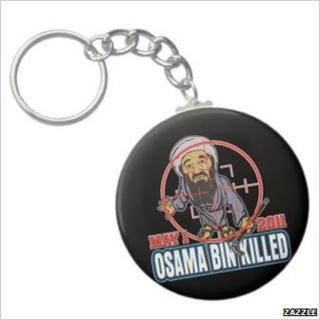 Thousands of items of memorabilia celebrating the death of Osama Bin Laden are being sold on the internet.
Examples include a key ring bearing the face of the al-Qaeda leader, framed in the cross-hairs of a gun, with the words "Osama Bin Killed".
There are mugs plastered with Bin Laden's face and the word "Dead" across it.
There is even an item of baby's clothing sporting the sentence: "I killed Osama."
Potentially lucrative
California-based Zazzle says it has sold "tens of thousands" of these types of products online, for between $15 (£10) and $40, since Sunday.
It is marketing 10,000 individual items related to the al-Qaeda leader's demise.
"This has been the number one trending item on the Zazzle marketplace for the past two days," says Mike Karns, the website's director of marketing.
Individuals across the US have been designing images to be emblazoned on caps, car bumper stickers and T-shirts.
They then upload them to one of several online stores, which prints and sells the items on their behalf.
Top-selling products could earn their designers thousands of dollars.
Strange celebration
"You now have platforms for entrepreneurs to make products in response to this and almost instantaneously offer them not just in the United States but around the world," says Adam Hanft, the chief executive of the marketing company Hanft Projects in New York City.
However, the sale of memorabilia that celebrates the killing of someone could be criticised as inappropriate.
Listeners to the BBC World Service are not impressed, judging by comments posted on its Facebook page.
Matthew Clanahan says the products are "distasteful, kitschy, and disgusting", while Gerard Ng says: "Some may call it entrepreneurship, I call it greed."
Zazzle's Mike Karns acknowledges some people will feel uneasy.
"Celebrating someone's death is a strange thing. It makes people uncomfortable a lot of the time, even if that person was one of the world's most evil folks."
Joe Schmidt, the head of consumer markets at another website, CafePress, describes the death of Osama Bin Laden as an "unusual and exceptional" event.
But some say celebrating the end of an adversary through culture and fashion is an ancient tradition - it is just being expressed in a modern way.
"It's a way of dancing on the grave of the enemy," says anthropologist Grant McCracken, the author of the book Chief Culture Officer.
"For most people it's just a way of participating in a national act, an attempt to acknowledge that this man who has inflicted terror on America is now no more."
Others see irony in the mini-industry of "Osama is dead" mugs, badges and neckties that Bin Laden's death has spawned.
"It is ironic there's a capitalist endpoint to Osama's anti-capitalist venom," says marketing expert Adam Hanft.