New York City picks Nissan minivan as next taxi cab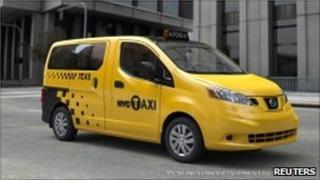 Japan's Nissan Motor has won a contract to provide the next generation of New York's famous yellow taxis.
The deal, which is estimated to be worth $1bn (£607m) was announced by Mayor Michael Bloomberg.
The design will be based on Nissan's NV200 minivan model.
The van, which beat US carmaker Ford Motor and Turkish manufacturer Karsan Otomotiv for the 10-year contract, will be phased in starting in 2013.
Mayor Michael Bloomberg acknowledged the Nissan NV200's boxy form evokes suburbia, but he said the yellow paint would give it the iconic New York touch.
The vehicle features an overhead window to offer views of city skyscrapers, and charging stations for mobile phones.
'Best fit'
"For the first time, we'll have a taxicab that wasn't 'off the rack', but rather custom-tailored to create the best fit for the drivers, owners and passengers of our city," Taxi and Limousine Commissioner David Yassky said.
"People are going to fall in love with this taxi once they ride in it. It is going to represent New York City well."
The car will also feature satellite navigation, so passengers leaving the main Manhattan corridors will not have to contend with drivers who do not know their way around.
The Nissan was the most fuel-efficient and the cheapest of the three finalists, at about $29,000 (£17,608) per vehicle.
By 2017, Nissan will be able to manufacture the cars to run solely on electricity, New York City Hall said in a statement.
The bulk of the current fleet are Ford Crown Victorias, a car which only does about 12 miles per gallon, compared with 25 miles per gallon for the Nissan NV200.
New York's 13,000 yellow cabs carry about 600,000 passengers a day, and are the only vehicles permitted to pick up passengers off the street.
The NV200, which will be built in Nissan plants in Mexico, is the first to be designed specifically for use as a New York City taxi.