Nasdaq-ICE to go hostile with $11.3bn NYSE bid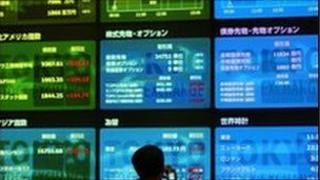 The battle for the New York Stock Exchange has intensified with the co-bidders saying they will make a hostile takeover bid.
NYSE Euronext has twice rejected an unsolicited approach from Nasdaq and IntercontinentalExchange (ICE) worth about $11.3bn (£6.9bn).
NYSE's board has already accepted a $10.2bn offer from Deutsche Boerse.
But Nasdaq-ICE has said it will now make a formal offer direct to NYSE's shareholders later this month.
The move appears designed to press shareholders in the NYSE to force the board to the negotiating table.
NYSE has rejected Nasdaq-ICE's offer of talks, saying that the takeover approach is an "empty vessel".
Last month, Nasdaq-ICE said that they wanted to split NYSE's equities and futures businesses between them.
Late on Monday, Nasdaq, which runs equities markets in the US and Europe, and ICE, a US energy futures specialist, announced that formal details of their bid would be released in a prospectus this month.
The co-bidders said they were taking their bid directly to shareholders because NYSE's board had "refused to engage us in discussion".
The move could also put pressure on Deutsche Boerse to improve its existing all-share deal.
NYSE's board has argued that the unsolicited bid is not serious, risks being blocked by antitrust regulators, and runs contrary to the company strategy of diversifying internationally.
But the Deutsche Boerse bid may also raise regulation issues, as a deal would create a massive presence in certain European financial products.
There is also some political opposition from those against the idea of a foreign company taking over a Wall Street brand.
NYSE shareholders are scheduled to vote on 7 July on the Deutsche Boerse plan, which was unveiled in February.