UK households 'face £780 drop in disposable incomes'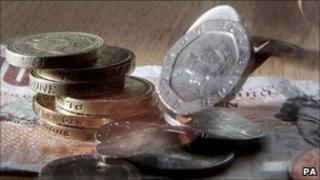 UK consumers face a drop in disposable income this year equivalent to about £780 per household, a report warns.
Financial services firm Deloitte said government tax rises and spending cuts, and higher commodity prices pushing up inflation were the main factors.
It will take until 2015 for households' disposable incomes to get back to their 2009 peak, the firm predicted.
Real earnings are "all but certain" to fall for the fourth year in a row - for the first time since the 1870s.
Deloitte expects real incomes to begin rising again only by the end of 2012, while inflation is heading "possibly above 5%".
Deloitte's chief economic adviser Roger Bootle said consumers may have little choice but to cut their spending, and predicted spending would drop by 1% this year and by 0.5% in 2012.
Rate rise 'dangerous'
Mr Bootle told the BBC that while some people might argue that the Bank of England could suppress inflation by raising interest rates, in his opinion that would be "disastrous".
"Given high debt and given all the other pressures on consumers and given the state of the housing market, I think even a small increase in interest rates could prove to be very dangerous," he said.
Were interest rates to rise, conditions would arguably be the worst for households since 1952, he warned.
The labour market also provided further cause for concern, he said, doubting whether the private sector could compensate for job cuts in the public sector.
Separate data from the Reed recruitment agency suggests that the number of job opportunities in the private sector fell 2% in April from March.
The fall was mainly due to jobs growth slowing in the banking and tourism sectors.
Reed also said that salaries for new jobs in April were 1% lower than in December 2009.