Buffett admits 'mistake' over Sokol's Lubrizol shares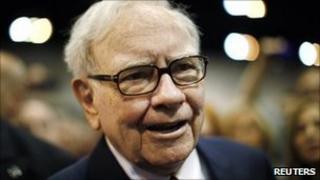 US billionaire investor Warren Buffett has faced uncomfortable questions from shareholders in his company about the resignation of a top executive.
David Sokol had violated Berkshire Hathaway's insider-trading rules, he told the meeting in Omaha, Nebraska.
Mr Sokol traded shares worth $10m (£5.9m) in Lubrizol before convincing Mr Buffett to mount a $9bn takeover.
Mr Buffett admitted he had "made a big mistake" by not pressing Mr Sokol when he mentioned the investment in passing.
Berkshire Hathaway earlier said its first quarter profits had dropped more than half - a fall of more than $2bn - partly because of insurance losses associated with the natural disasters in Japan and New Zealand.
The annual meeting of Berkshire Hathaway is usually a celebration of the company's investment successes, but the Sokol affair made the atmosphere less pleasant this year, correspondents say.
'Straight as an arrow'
Mr Sokol, who ran an energy utility for the company, had been widely tipped to succeed Mr Buffett, 80, as chief executive before his resignation last month, when it emerged he had bought Lubrizol shares in January.
"He violated our insider-trading rules and he violated the principles I lay out every two years to our managers," Mr Buffett said.
Mr Buffett has previously revealed that Mr Sokol made a "passing remark" about a personal investment in Lubrizol.
But Berkshire Hathaway's audit committee said in a report that Mr Buffett was unaware of when Mr Sokol's shares were purchased or that he was working with Citigroup bankers on the takeover.
"I made a big mistake by not saying: 'Well, when did you buy it?'" he admitted.
Lubrizol jumped 28% on the New York Stock Exchange on 14 March when Mr Buffett announced a deal to buy the company.
Mr Sokol's lawyer said on Wednesday that his client had no reason to believe Mr Buffett would want to buy Lubrizol at the time he bought stock, and that he had been studying the company months before Lubrizol was mentioned during a meeting with Citigroup investment bankers in December.
"He would not, and did not, trade improperly, nor did he violate any fair reading of the Berkshire Hathaway policies," a statement said.
Mr Buffett runs Berkshire Hathaway's more than 70 subsidiaries, which employ more than 250,000 people, with the help of his 87-year-old vice-chairman, Charles Munger, and 20 others at the firm's headquarters.
Mr Buffett also told shareholders that he was not sure it had been warranted to assume Sokol was his most likely successor.
"Certainly the candidate that I think is the leading candidate now, I would lay a lot of money on the fact that he is as straight as an arrow," he said.