US appeals court restores NFL 'lockout'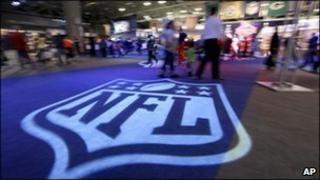 A US appeals court has put a "lockout" imposed on National Football League (NFL) team owners back into effect, throwing the league into chaos.
The decision came hours after players had returned to work, after a judge on Monday granted players a temporary injunction to end the lockout.
The dispute began seven weeks ago after talks over collective bargaining rights and revenues broke down.
The latest upset comes amid the draft, in which the 32 teams pick new players.
The annual draft will continue over the weekend, but the college players chosen may find they cannot properly start their new careers with their new clubs.
NFL team owners imposed the lockout, which is threatening the 2011 season, last month, the first labour stoppage in the sport since 1987.
Before the latest ruling reimposing the lockout, many American football players had returned to their teams on Friday to meet their coaches and start training.
But the 8th US Circuit Court of Appeals in St Louis granted the league's request for a temporary stay of the injunction issued on Monday that ended the lockout.
The ruling will give the court time to consider the league's request for an appeal against that injunction.
Judge Susan Richard Nelson, who lifted the lockout, had said it was "inflicting irreparable harm" on the players.
'Fair agreement'
The main sticking point in the dispute between the players and the teams is how to distribute the league's $9bn (£5.5bn) in annual revenues.
Players for the NFL's 32 teams currently receive 60% of the revenues, something the clubs' owners see as too generous.
The NFL takes $1.3bn for costs but it says these have risen steeply since the previous deal was struck in 2006 and it now wants to take $2.3bn, which would mean less money for the players.
The players, whose careers are often cut short by injury, claim they deserve a bigger cut of the $9bn generated annually by the NFL.
The talks also covered wages, drug testing, pension benefits, and plans to increase the number of regular-season games from 16 to 18.
No team activities have taken place since the end of the 2010 season - at a time of year when spring and summer camps generally allow coaches to work with the players in readiness for the start of the 2011 season in September.
Meanwhile, attention has focused on the draft, which will continue through the weekend.
The team with the worst record from the previous season selects first in the draft, with the second-worst team choosing second, and continuing through the teams. There are seven rounds of selections.
First pick on Thursday was Auburn University quarterback Cam Newton, selected by the Carolina Panthers.