Russia raises interests to fight inflation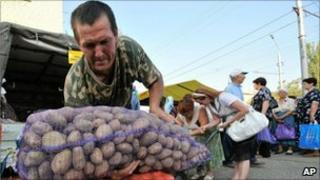 Russia is to raise its key interest rates for the second time this year as it attempts to control inflation.
The Russian Central Bank will increase the refinancing rate from 8% to 8.25% and the deposit rate from 3% to 3.25% on Tuesday.
Inflation in the year to 25 April stood at 9.6%.
"Everything is directed to battling inflation. That is set as the number one task," said Olga Sterina at Uralsib.
"The central bank decided to take a pre-emptive step. Before there were a lot of concerns about the slowdown in economic growth but... our monetary authorities are not concerned about a slowing economy against the backdrop of high oil prices," she added.
A similar rate rise in February was the first since 2008.
The rouble has risen against the dollar to its highest since December 2008.