Blackberry firm shares hit after second profit warning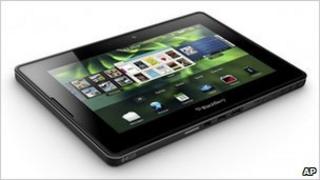 Research in Motion (RIM) has slashed its profits forecast for the current quarter due to lower shipments of its popular Blackberry phone.
Shares in the company fell about 10% in after-hours trading as a result of the warning - its second in the past month.
RIM said it would also miss its revenue target of $5.2bn (£3.1bn) to $5.6bn for the period, forecast in March.
The firm's previous profit warning was due to the cost of developing its new tablet-format Blackberry.
It also blamed the increasing number of consumers moving towards cheaper handsets in its product range.
'Losing traction'
The company has seen its share of its core US market steadily eroded by smartphone rivals.
"This is the beginning of the slide," said Edward Snyder at Charter Equity Research.
"It's going to be like air coming out out a balloon slowly. Increasingly RIM is being relegated to the low end, quasi-smartphone.
"Without a flagship touchscreen, high-end smartphone, they are going to continue to lose traction."
'Transitional challenge'
RIM is banking on its new tablet computer - the Playbook - to regain the initiative.
It will be half the size of Apple's iPad and will be compatible with Google's Android operating system.
As well as the new product launch, the company is also revamping its operating system.
Some analysts are more willing to give the firm the benefit of the doubt.
Commenting on the latest profits warning, Matthew Robinson at Wunderlich Securities said: "It's not great news but in this transition period there are a lot of numbers that are moving around and I don't think we can view it as that incremental.
"Transitions are always a challenge."