Microsoft profits jump 31% on strong Office sales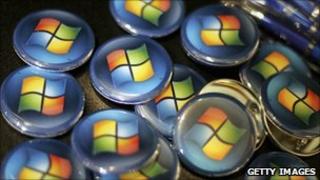 Technology giant Microsoft has reported a sharp jump in quarterly profits, thanks to strong sales of its Office applications and despite a drop in sales of its Windows operating system.
Net income for the three months to the end of March was $5.23bn (£3.14bn), a rise of 31% on the $4bn the firm made a year ago. Revenue rose 13% to $16.43bn.
The company said the "strong results" were despite a mixed PC environment".
Concerns about Windows sales left the shares down 4% at a two-year low.
Revenue from Windows 7 fell by 4%.
The drop reflected a dip in the wider market for PCs.
Despite beating analysts' expectations on overall revenue, shares in Microsoft in after-hours trading fell slightly, reflecting concerns about the company's core Windows sales.
"The concern is PC markets are being disrupted," said Colin Gillis at BGC Financial.
"But it's also overblown when you factor in that Windows 7 is the fastest-selling operating system in history."
Revenue in all other areas of the business picked up on a year earlier.
Revenue at the firm's Entertainment and Devices division grew by 60%, fuelled by sales of Xbox consoles and Kinect controllers.
"Consumers are purchasing Office 2010, Xbox and Kinect at tremendous rates, and businesses of all sizes are purchasing Microsoft platforms and applications," said chief financial officer Peter Klein.
The company also said it was seeing strong take-up of its cloud-computing services, which allow data to be stored on remote servers, at major US corporations.