Santander says upturn has begun in Europe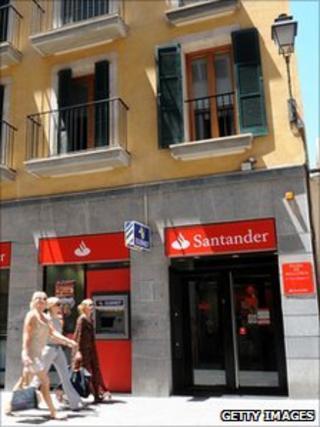 Spanish banking group Santander said net income fell 4.8% to 2.1bn euros ($3.1bn; £1.9bn) in the first three months of this year.
Bad loans were 3.61% of total lending, up from 3.3% a year ago.
The bank said, however, that the future would be brighter.
Santander earns about 20% of its profits from its UK businesses, which include the former Abbey National, Bradford & Bingley and Alliance & Leicester banking chains.
It earns 25% of its profit in Brazil, where the economy is growing strongly and profits rose there by 22.5%.
The company's chairman, Emilio Botin, said: "These results highlight the enormous benefits of geographic diversification.
"Revenues are growing at a good pace throughout the group and in Spain reversed the downward trend of recent quarters. I am convinced that this change will continue in the coming months."
Mr Botin's daughter, Ana Botin, has recently become chief executive of Santander's UK operations.
Banks in the UK have been under fire for not lending enough to small and medium-sized enterprises (SMEs).
The government has set a target for improvement under its Project Merlin co-operation agreement with the UK's banks.
Ana Botin said that Santander UK had sharply increased its lending to small businesses.
"In line with our commitments to the UK Government under Project Merlin, we have increased lending to SMEs by around 30% over the last 12 months and we continue to be a consistent lender to homeowners, despite weaker demand."