What makes consumers confident?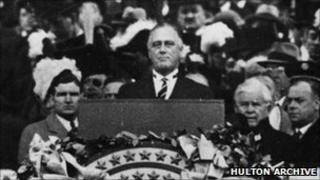 "The only thing that we have to fear is fear itself." The words of former US President Franklin D Roosevelt, in his inaugural address.
At the time of his inauguration in 1933, the US was in the middle of the Great Depression.
He was trying to convince the public that a more optimistic outlook was needed in order for the country to turn things around.
Some people would argue that is exactly what consumers in the UK need right now - an injection of confidence.
However, it's all very well saying you need to be more confident, but confidence is a funny thing, with many factors influencing it.
Measuring optimism
For instance, if you took just the health of the economy, you might think that consumers would feel the least confident when a country was in recession.
But according to the Nationwide, consumer confidence hit an all-time low in February 2011, more than a year after the recession officially ended.
Although the economy had shrunk again in the last three months of 2010, this was strongly linked to the extreme winter weather, and the economy was widely expected to grow again at the beginning of this year, which official data has now shown to be the case.
Nationwide's index is compiled by asking 1,000 people their view of the current economic and employment situation, their opinion on what it will be like in six months' time, and whether this is a good moment to purchase major goods.
Robert Gardner, Nationwide's chief economist, says that while people's ability to spend may not be as constrained as it was during the recession, there is no getting away from the fact that conditions are still difficult.
"Employment is still tough and wages haven't been rising fast enough to keep up with inflation. People can see the cost of food rising," he says.
To him, confidence is about people's willingness to spend and it is wrong to dismiss it as unimportant - although he admits it is not the only indicator that needs to be looked at when assessing economic recovery.
The real key factor to confidence, he says, is what is going on in the labour market.
"It's such a fundamental to determining what is happening with household budgets.
"If the labour market picks up, there will be more people in jobs, people will feel more confident."
That in turn increases demand and will be vital to boosting consumer spending, which makes up about 60% of all spending across the UK.
'Animal spirits'
But according to Dr Sue Eccles, a consumer behaviour expert at Bournemouth University, the key thing about consumer optimism is that it is a very individual feeling, with cultural, social and psychological issues all playing a part.
"To suggest that if the national situation improves, consumer confidence will rise across the board - it's not as simple as that," she says.
"Somebody who is naturally optimistic is less likely to cut back on their spending than somebody who is naturally pessimistic. Someone who is perhaps a compulsive shopper might still make those purchases."
Her view echoes that of the economist John Maynard Keynes, who believed that people acted on "spontaneous optimism" rather than rational considerations of the pros and cons of that action.
To quote Keynes: "Most, probably, of our decisions to do something positive, the full consequences of which will be drawn out over many days to come, can only be taken as the result of animal spirits - a spontaneous urge to action rather than inaction, and not as the outcome of a weighted average of quantitative benefits multiplied by quantitative probabilities."
Dr Eccles adds that social influences such as what is happening to the people closest to you also affect your outlook.
For instance, if you know colleagues or friends who are having financial difficulties, that will have a big impact on whether you save money for a rainy day.
'Canny and savvy'
She also believes that people have become more sceptical by nature, and this means that even events usually associated with a "feel-good factor" may not be accepted as such so lightly.
The royal wedding might make some people feel upbeat and positive but it might fill others with horror, wondering why all this money is being pumped into a big celebration when there are other things that need our attention.
The same goes for the Olympics.
"Sometimes with the feel-good factors it actually boils down to 'what does it mean to me personally?'" she says.
"I think it would be wrong to assume that we can actually jolly British consumers with lots of feel-good events. We're much more canny and savvy."
What's more, according to Dr Eccles, this scepticism spreads to the economic statistics we might be fed at a national level.
People don't have as much belief in national statistics as they used to, she says, perhaps because new technology allows us to be more critical about the information we receive.
"We've now got things like blogs, and people are talking to others very openly online in a way they never have done before about the information we are given," she says.
Fuel effects
But things like wage freezes and inflation do have an impact when their effects are seen at a local level.
"People are beginning to see the pound in their pocket doesn't go as far as it once did, so they are having to budget in a way that they weren't previously," Dr Eccles says.
"If filling up the tank in your car used to cost £40 a week but now costs £50, does that £10 come off your grocery bill or do you have one less meal out at a restaurant?"
Fuel prices certainly influence people's outlook.
Consumer advice website Moneysavingexpert.com says the majority of its readers think cutting petrol prices would improve consumer confidence.
Gary Denning, who owns a taxi company in Falmouth, says he has been number crunching for the last three years because of the price of diesel.
"We're paying now £1.42 a litre at the pump. Back in June 2009 I believe it was about £1 a litre," he says. "Our fuel over the last five years has increased by about 60% and the income hasn't gone up to compensate for that."
So with petrol and diesel prices at record highs, that does not appear to bode well for improving optimism in the near future.
"We expect consumer confidence to remain fairly subdued by historic standards," says the Nationwide's Robert Gardner. "Any improvement in the economy will take a while to come through."
Dr Eccles agrees: "I think that most of us realise life has ups and downs and at the moment for most of us it is potentially a downer from an economic point of view, and we just have to ride the storm.
"I think people think things will improve, but at the moment they just can't see how or when it will happen."