After Google, China's Baidu finds new challengers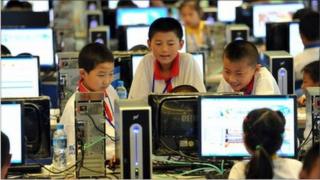 Like China's juggernaut economy, Baidu.com, the country's most popular search engine, is powering ahead.
The company controls some 75% of searches in the world's largest internet market when measured by the number of users.
Its founder, Robin Li, now tops a list of China's richest people.
Baidu's shares are trading at a lofty price of 60 times expected 2011 earnings.
But as the search engine releases its latest earnings report, some analysts warn it may become a victim of its own success.
"There's a saying in China that the tallest nail gets hammered in," says Duncan Clarke, chairman of BDA China.
"If Baidu gets to 90% or 95% market share, there will definitely be some challenges from Beijing."
Mr Clarke reckons the Chinese government may pose one of the biggest headaches for Baidu, whose name comes from a poem about a man searching for his ideal lover.
The irony is that some analysts believe Baidu's adherence to online censorship rules is one of the main reasons behind its dominance.
Government rival
China's Communist Party is believed to be the driving force behind Goso.cn, a new online search engine launched in December.
The site is run by the People's Daily, the party's official newspaper, with technical support from the Chinese Academy of Sciences.
BDA China's Mr Clarke believes Goso.cn, which has hired a number of former Google China executives, is a potential rival to Baidu.
In the private sector, Baidu is trailed by Google, which has a 20% share of the Chinese market, and Sohu.com's Sogou, which has a 4% market share.
Google is seen struggling to build much more of a presence in China, not least because it had to move its service to Hong Kong in 2010 in order to avoid mainland censorship laws.
The US search giant lost market share to Baidu as a result.
By comparison, Charles Zhang, chief executive of Sohu, says that his company is targeting a 20% market share in several year's time.
And while Sohu may not yet be a serious challenger to Baidu, it has powerful investors such as Jack Ma, founder of e-commerce giant Alibaba and online shopping site Taobao.
Mr Zhang says Sogou, which means "Search Dog", is now the only browser being used on the popular Taobao shopping site.
The search engine is also being heavily promoted to Taobao's 370 million users, who buy everything from underwear to light bulbs.
"Regarding our cooperation with Alibaba, our plans are progressing well," Mr Zhang says.
Strong growth
Despite the competition, China still has the fastest growing major internet sector in the world.
As a result, analysts say that the growing pie of users and business opportunities may be big enough to accommodate a number of challengers.
The investment bank HSBC recently raised its target share price for Baidu to $158 a share from $117 a share.
Underpinning this performance will be the company's earnings growth.
In its latest earnings report, which was released on 27 April, the company said that it made a better-than-expected profit of $163.5m (£98m) in the three months to the end of March.
Revenue for the period surged by 88% to $372m.
"Baidu is and will remain the most profitable, lowest-risk blue chip internet play in China," according to HSBC analysts Tucker Grinnan and Hui Dong.
But as Baidu's market share expands and its earnings growth continues, some analysts also warn that the Beijing-based search engine will have to beware the risks associated with too much success.