Japan debt outlook cut to negative on rebuilding costs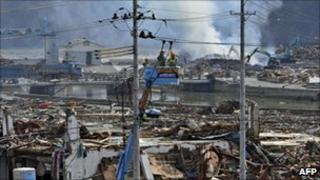 Japan's sovereign rating outlook has been cut to negative by Standard & Poor's (S&P) in the wake of the devastation caused by last month's earthquake and tsunami.
The ratings agency said that reconstruction efforts are likely to further increase Japan's debt levels.
According to S&P, the cost of rebuilding could go as high as 50 trillion yen ($612bn; £372bn).
Japan has the highest public debt among the industrialised countries.
The agency also warned that if Japan's debt levels continue to rise it could take further action.
"We revised the outlook on the long-term rating on Japan to negative, to reflect the potential for a downgrade, if fiscal deterioration materially exceeds these estimates in the absence of greater fiscal consolidation," S&P said in a statement.
Changing projections
Japan's reconstruction bill has been increasing as the full extent of the damage caused by the earthquake and tsunami becomes clear.
The government initially estimated that it will cost 25tn yen ($306bn) to rebuild the infrastructure in the affected areas.
However, S&P has indicated that the cost could be almost double that amount.
Infrastructure damage is not the only issue that the Japanese government has had to deal with.
The radiation crisis at the Fukushima Daiichi nuclear plant has also compounded its problems.
While Tokyo Electric Power Company (Tepco) has been grappling to bring the crisis under control, it has been hard to predict the extent of damage caused to the plant and also to the surrounding areas because of radiation leaks.
There have also been concerns about compensation claims due to radiation leaks and whether the government will bail out Tepco.
The credit rating agency warned that the rebuilding cost estimates could change depending on how the situation at the plant unfolds.
"In light of the evolving developments at the Tepco nuclear power plant, in particular, we regard these projections as uncertain," it said.
Positive affect
While a downgrade in sovereign rating is never good news for the economy, some analysts feel that this could prove to be a blessing in disguise for Japan.
The Japanese government has said that it will make all efforts to get the economy back on track as soon as possible.
However, there have been concerns on how it will fund the massive reconstruction bill.
There have been calls for the government to raise money by selling new bonds, a move that economists have criticised saying it will only increase Japan's debt and hurt the economy.
Analysts say the credit rating downgrade will prompt the authorities to rethink their strategy.
"This will put more pressure on the Japanese government to do something about revenue enhancement," said Takuji Okubo of Societe Generale Securities.
"I think ... could be positive for Japan, in the sense that it will push the Japanese government into raising the consumption tax next April," he added.