Japan's retail sales record biggest drop in 13 years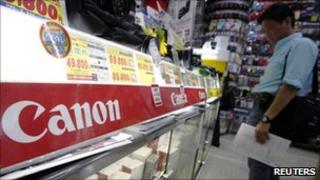 Retail sales in Japan plunged in March as consumers stayed away from shops in the wake of last month's earthquake and tsunami.
Japanese retail sales fell 8.5% last month, compared with March 2010, according to the latest data by the trade ministry.
This is the biggest year-on-year drop in sales in the past 13 years.
The data is the first indicator of the affect the devastation has had on Japan's consumption levels.
The Japanese government has downgraded its outlook for the growth of the country's economy following the recent natural disasters.
'Sense of forbearance'
Analysts said that the uncertainty surrounding economic future had meant consumers avoided non-essential spending.
"A big fall in retail sales was inevitable as the earthquake led consumers to refrain from spending on luxury items and consumer electronics," said Yoshimasa Maruyama of Itochu Economic Research Institute.
While the earthquake and tsunami hit the north-east coast of Japan, analysts say that the economic impact has been felt all over the country.
"Spending was hit not only in the areas directly affected by the earthquake, but also nationwide as a sense of forbearance took hold," said George Worthington of IFR Markets.
Analysts said that other factors also contributed to the drop in sales, not least the shortage of electricity supplies in the country.
"Rolling blackouts in Tokyo and surrounding areas caused stores to shorten operating hours," said Mr Maruyama.