Credit card 'torture': one man's story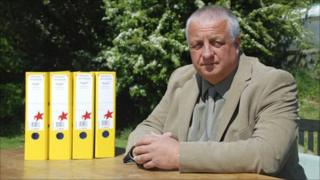 A man whom a High Court judge said was "tortured" by hundreds of phone calls from his credit card firm has spoken for the first time about his ordeal.
Keith Harrison, a businessman from Buckfastleigh in Devon, spoke exclusively to the BBC about the telephone harassment that the MBNA credit card firm, and the debt collection firm Link Financial, had used to try to make him repay his outstanding credit card bill.
"They [MBNA] were condescending and rude. The bottom line is they don't believe what you say," said Mr Harrison.
"Whatever you say about your circumstances they are not interested, they just want you to get your debit card out," he added.
The lenders' behaviour was so bad that it contributed to a decision in February, by Judge Nicholas Chambers QC at the High Court in Mold, to write off just over £20,000 outstanding on Mr Harrison's card.
"I am satisfied that the claimant's description of the way that he was hounded by his creditors is essentially correct not least in the use of "non-traceable" telephone calls," the judge said.
"[There] can be no excuse for conduct of which it must be supposed the sole purpose must have been to make the claimant's life so difficult that he would come to heel."
Running into trouble
Mr Harrison, who runs a design business from home, ran into trouble in 2007 - nearly a decade after first taking out the MBNA card.
In the space of three months he was struck by a series of family illnesses.
His mother had a serious heart attack, necessitating constant care at home after being treated in hospital.
Then both his wife and daughter also went into hospital with serious ailments.
Distracted by all this, he neglected his business, failed to invoice some customers and started running out of cash to pay his bills.
'Exceptionally hostile'
Mr Harrison was not insolvent. At first he simply made his credit card payments late, on a debt of around £15,000.
"The response from MBNA was exceptionally hostile, virtually from the word go, out of the blue," Mr Harrison said.
"Telephone calls, various threat letters, they would send postcards.
"What became apparent is that they almost had a mechanised collection process they triggered that took us completely by surprise."
Mr Harrison discovered that an aggressive system of debt collection had kicked in.
"We did pick up the calls initially, but what we found that all the people we spoke to were interested in was payment.
"They were call centre staff who almost did not listen to you or believe what you were saying," he said.
"The next call would be a different person, you told them the same thing, but they just said 'when are you going to pay us?'"
At this stage MBNA also raised Mr Harrison's interest rate from 24% to 30%.
And along with late payment charges his debt ballooned to more than £20,000. Then he found he could not pay at all.
Hundreds of calls
Mr Harrison was receiving phone calls almost every day, and at the start of 2008 started to keep a written log of them.
On one day alone he received 15 calls from MBNA.
Submitted as evidence to his recent court hearing, the log records more than 700 mainly automated phone calls which he says he received from the credit card firm from the beginning of 2008.
Along with the calls in 2007, Mr Harrison estimated he had been bombarded with between 1000 and 1,500 calls, mainly from MBNA, and then from Link - who bought the debt from MBNA in the autumn of 2008.
"They would follow a pattern, they would call my mobile, my home and my business in a set sequence," he says.
"It was unnecessary and distressing, and there was no need for them as I was communicating in writing."
Number withheld
At the start of his ordeal Mr Harrison did speak to the callers from MBNA and says he had about 15 conversations with them.
But he soon decided not to take any more calls in person and allowed them to be diverted to his answerphone.
He found that many of the calls were from withheld numbers, while others left a message for him, either from a real person or pre-recorded.
However he could not really ignore them as calls from his local hospital, vital during the family illnesses, were also unidentified.
"The people it affected the most was my family. I told them there was somebody terminally ill in the house and the calls were distressing," Mr Harrison said.
"The calls kept coming in. I tried to reassure my mother that it was just a bank threatening us and it was unacceptable, but it was incomprehensible to her that someone would keep doing this."
'Extremely stressful'
Keith Harrison's wife, Susan, said she was put in a state of paranoia.
"It was absolutely horrendous. You'd instinctively go to the phone and think who is that calling? Am I going to get into a really distressing conversation here, repeating everything we are going through?" she said.
"I didn't want the children to be subjected to people like that calling them. My heart jumped every time the phone rang. I hate the phone now. It was extremely stressful."
Link Financial called too, dozens of times, leaving 18 messages in all.
In Link's case Mr Harrison did not have any conversations with the callers and communicated only by letter.
He advises other people in a similar situation keep things in writing.
"Forget the telephone, it is just a form of harassment - the banks use it as a weapon now.
"If it is in writing it is auditable, and it's black and white, and they have less of an opportunity to coerce you and it can be produced in court," Mr Harrison adds.
'Harassment allegations'
MBNA, one of the biggest credit card lenders, flatly denies Mr Harrison's story and his allegation of telephone harassment.
"Unfortunately, although we left short messages for him, we never got to speak to Mr Harrison and he did not respond to any of our attempts to contact him nor ask anyone to call us on his behalf," MBNA said in a statement.
"As we were not a party to the legal proceedings we were not aware of the harassment allegations against us as this was not part of Mr Harrison's pleaded case," MBNA added.
It seems odd that MBNA was unaware of the allegations aired in court.
It had provided a senior official as a key witness for Link Financial, the debt collection firm which had bought Mr Harrison's debt and which was the defendant in the High Court hearing.
The detailed log of the many telephone calls was included in Mr Harrison's extensive witness statement and submitted in the trial bundle of case documents.
This statement also contained copies of three letters Mr Harrison had written to MBNA in early 2008, complaining about the phone calls - letters which were then acknowledged by the credit card company.
The rules
Regulations laid down by the Office of Fair Trading (OFT) on debt collection suggest hounding debtors with phone calls is counted as improper harassment.
The rules say physical or psychological harassment is an unfair or improper business practice.
"Putting pressure on debtors or third parties is considered to be oppressive," says the guidance.
It cites as an example of an unfair practice "contacting debtors at unreasonable times and at unreasonable intervals."
But despite the evidence before the court and the judge's ruling, MBNA continues to deny that it made nearly as many calls as Mr Harrison recorded, saying they were in the tens, not the hundreds.
"We believe the number of call attempts we made in relation to his credit card account, was both proportional and reasonable," MBNA said.
"We have robust controls over our contact with customers, in line with regulatory guidance and we did not breach these."
Victory?
Mr Harrison won his court case primarily because Link Financial could not show that MBNA, back in 1998, had supplied him with a copy of the terms and conditions for using the credit card.
This is one of several vital requirements under the consumer credit laws that all lenders have to follow - or run the risk that they can never recover their debts.
Despite his victory, Mr Harrison says he feels "hardly any" relief.
"Had I lost that case I would have been facing a bill of more than £120,000 of fees. It was tremendously stressful," he said.
The lasting effects of his phone call harassment remain with him.
"We pick up very few calls now unless they can be identified from family and friends," he says.
"It has had a profound effect. Now we always wonder who is calling us."