US Airways and Delta Airlines report worsening losses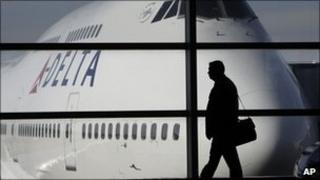 Two US airlines have reported worsening losses brought about by the high cost of fuel.
US Airways reported a net loss for the first quarter 2011 of $114m (£69.3m), more than double the $45m loss at the same time the year before.
Meanwhile Delta Airlines reported a loss of $318m for the first quarter.
Delta said it aimed to meet the higher cost of fuel by raising passenger fares and cutting its overall number of flights by 4%.
"We believe our aggressive fare actions, combined with a four point capacity reduction for the back half of the year, will allow us to recover the higher costs of fuel in our ticket prices," said Delta's president, Ed Bastian in a statement.
Recently rival US airlines United Continental and American have both reported quarterly losses on the back of high fuel prices.