Samsung sues Apple after accusations of 'copying'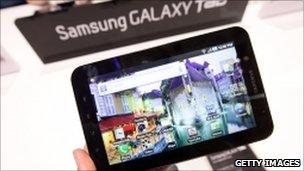 Samsung Electronics is suing Apple, claiming its rival violated its patent rights, days after Apple accused Samsung of "slavishly" copying designs of its iPad and iPhone.
The patent lawsuits, filed in South Korea, Japan and Germany, involve infringement of up to five patents, Samsung said in a statement.
Apple filed a lawsuit against Samsung last Friday for violating its patents.
It is the latest patent dispute in an increasingly competitive industry.
"Samsung is responding actively to the legal action taken against us in order to protect our intellectual property," the statement said.
South Korea's Samsung is one of the fastest-growing smartphone makers in the telecommunications industry.
Its Galaxy line of smartphones and tablet computers, which use Google's Android operating system, have emerged as the top competitors so far to Apple's iPhone and iPad.
However, Samsung is also one of Apple's main suppliers of components such as chips and LCD displays.
The legal battle could therefore hurt the earnings of both companies as strong sales of Apple's iPhone and iPad mean added revenue for Samsung.
Related Internet Links
The BBC is not responsible for the content of external sites.