Amaranth trader given $30m fine for market manipulation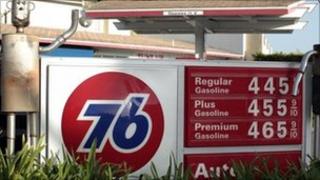 US regulators have fined a former hedge fund trader $30m (£18.2m) for manipulating the natural gas market.
The Federal Energy Regulatory Commission (Ferc) levied the fine on Brian Hunter, Amaranth's lead energy trader, for violating the Commission's anti-manipulation rules.
The fine comes as President Barack Obama said a team was being assembled to look for fraud in the oil market.
Natural gas and oil are heavily traded commodities on which huge bets ride.
Mr Obama said the attorney general was assembling a team that would look for any evidence of market manipulation in the oil market, which is closely linked to - and trades in a similar way to - the gas market.
He pointed the finger at "speculators," saying a new justice department task force would "root out any cases of fraud or manipulation" that may have caused higher prices.
The average gallon of US petrol costs 35% more than it did a year ago.
Earlier this week Mr Obama said the lack of supply was not the only reason petrol prices were rising, saying speculation also played a part.
Risk
US lawmakers are looking at other ways of controlling the commodities markets, including rules limiting the number of trading contracts any one company can control.
Many companies use oil contracts to hedge against risks to their business and commodities markets have a role to play in setting prices.
Thursday's fine stems from a July 2007 enforcement action against Amaranth, Mr Hunter and another trader, Matthew Donohoe.
It alleged that they had engaged in a manipulative scheme in the natural gas futures market that directly affected the price of certain natural gas transactions.
Ferc said the scheme included the sale of large amounts of natural gas futures contracts - agreements to buy or sell a commodity at a set price at some future date - which were intended to drive down their price, something that would benefit both the company and the two traders.
Ferc settled in 2009 with Amaranth and Mr Donohoe.
Amaranth Advisors, a US-based hedge fund, lost about $6bn (£3.2bn) betting on gas prices in 2006, which lead to calls for greater regulation of such investment companies' activities.
The company fell in what was the biggest hedge fund collapse ever.
Michael Kim, lawyer for Mr Hunter, would not say whether his client would pay the fine or appeal the decision.