Retail sales: How are small shops doing?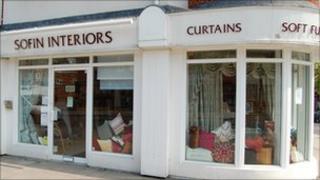 Surprisingly good retail figures suggested small, independent retailers were doing better than their bigger rivals.
Northfield Avenue is typical of many suburban High Streets in London.
Close to a tube station, its parade of shops has some outlets that are smart and some not so smart.
There is a closed down pub and, right next to a small new Sainsbury's Local, a closed down grocers.
So how are small shops doing, here?
Their experience is remarkably varied.
The soft furnishings shop
Syed Waliullah is minding Sofin Interiors for a couple weeks while his daughter-in-law, who owns the business, is on holiday.
His impression is that business is picking up after the recession.
"Soft furnishings are not a necessity and are partly a luxury," he points out.
"For two weeks I have found a lot of enquiries coming, with a lot of people asking for curtains to be made, they want estimates."
"Maybe they are hopeful they will have spare money and are thinking of spending it now."
The new fishmonger
Surely High Street fishmongers were killed off by the supermarkets a long time ago?
Maybe, but former journalist Simon Osborne opened his shop, Poisson Fresh Fish, just 16 months ago and says business has been really good since day one and is getting better.
"We have a great start to the year."
"January and February are great times for fishmongers anyway as people decide they want to eat more healthily after Christmas."
"We've managed to keep that going into spring and year-on-year sales are up and we are enjoying a good time."
The carpet and bed shop
1st Choice has been selling carpets and beds in Northfields Avenue for 25 years.
Sat Ghataore has seen plenty of ups and downs in that time and says business has slowed down recently.
"It is patchy, you can't predict it and every week is different. The last few months every week is different - some weeks good, some weeks bad."
"We still survive because of regular customers, established clients. People know us so we don't have to advertise."
"Our pricing is very keen and we deliver straight away - the same day or the next."
The fireplace shop
David Rymer has been running Fireplaces for 10 years.
Business is volatile, up and down, on top of its normal seasonal trend.
Most sales are between September and March when cold weather prompts people to buy fireplaces.
He has been finding his customers' use of the internet an added complication.
"There is definitely a downturn in spending," he says.
"Rather than selling a complete package people are shopping around , buying one component here and buying another part elsewhere."
"Quite a few people come in here, get professional advice, then come back after we have put together a package for £1,200 and say they can get the same items on the internet for £800."
The computer repair shop
Harbie Chonk does not beat about the bush. Business is bad - very, very, quiet.
He has been running Star Computers for nine years but people just won't spend money on repairs any more.
"If they have a bill for £100 for repairs they would prefer to buy a new computer."
"Two or three years ago they would say 'we will repair it', now the new ones are much cheaper."
"It has been like this for the past two years - before that it was pretty good, repairs were quite common."
The model shop
After many years as a school teacher, Witek Lakomy retired then decided two years ago to open a model shop, selling model trains and cars.
It is just the sort of shop that used to be common in every High Street but which is very rare these days.
"My plan in this second year of trading is to cover my costs and at the moment it will be touch and go."
"In March, it was almost as if a switch were thrown. People were not buying but instead offering me things, old train sets and Scalextric."
"April, well that has been up and down. There have been days when I might as well not have opened."