KFC and Pizza Hut owner Yum Brands sees profits rise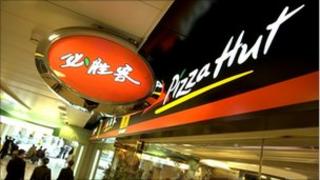 Yum Brands, the owner of fast food chains Pizza Hut, KFC and Taco Bell, has reported better-than-expected profits for the first quarter.
Net income for the first three months of the year stood at $264m (£161m), a 10% increase from the same period last year, the firm said.
The company said total sales at its Chinese operations increased by 28% during the period.
Yum Brands operates more than 3,700 outlets in China.
'Highest-margin market'
Income levels in China have been rising steadily as the country's citizens reap the benefits of its economic growth.
That has resulted in an increase in the spending power of consumers, which in turn has been driving growth for companies operating in the country.
"Our China business continues to fire on all cylinders," said David Novak, chief executive of Yum Brands.
Sales at existing restaurants of Yum Brands in China rose by 13% during the period. It also added 92 new outlets to its tally.
Analysts also say that growth in China is likely to be the driver of growth going forward.
"It's their fastest-growing, highest-margin market," said Stacey Brodbar of WP Stewart.
"If that can continue to grow at accelerated rates, that's the story here," she added.
Legal troubles
While its profits in China have risen, Yum Brands has faced trouble on the home front.
In January this year, the company's Taco Bell fast food chain was taken to court in California over allegations that it used large amounts of additives and little actual meat in its beef products.
The company denied the claims and the lawsuit was dropped.
However, it did dent Yum's brand image. Its US sales for the first three months of the year fell 2%.
The company said while it was prepared to tackle rising costs, the lawsuit had come as a surprise.
"We knew commodity inflation would be a headwind but did not plan for a significant reversal in sales due to false claims about our food quality that resulted in negative publicity," said Mr Novak.
Taco Bell has 5,600 outlets in the US and accounts for almost 60% of Yum Brands' profits.
Mr Novak added that he remained confident about the long-term growth prospects of the brand.