Gold price hits record at $1,500 an ounce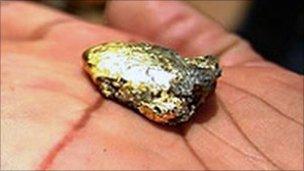 The gold price has risen above $1,500 an ounce for the first time after concerns about global economic recovery lifted the metal's appeal as a haven.
In Hong Kong trade, gold hit a record $1,500.70 an ounce, which traders said was mainly due to Standard & Poor's downgrade of its outlook on US debt.
Silver also touched a 31-year high of $44.34 an ounce.
"In a word, sensational. Everything's feeding into this, sovereign debt, weak dollar, inflation," said one analyst.
But analysts were divided about whether the price could go higher and are waiting to see if trading in Europe and the US continues the momentum seen in Asia.
Jonathan Barratt, at Commodity Broking Services, said: "We often see a $20 rally after breaking a big number, then a pullback.
"We will see what Europe and United States do with this. $1,510 or $1,520 look possible, but prices are starting to look a little stretched up here."
Darren Heathcote, at Investec, said: "The market is so fickle at the moment and it wouldn't surprise me if we saw a sell-off."
Some market watchers see gold consolidating at its current level as it waits for the next reason to push higher.
Natalie Robertson, commodities strategist at ANZ, said: "I don't see prices convincingly past that level in the next few days unless we see something very negative, probably related to the eurozone sovereign debt.
"But we do see gold very well supported at the $1,490 level," she said .
Silver continued to soar, rising to a 31-year high for the fifth consecutive session.
Not only is silver increasingly seen as a haven, but there is also rising demand for industrial consumption.
"Silver is still in a clear bull trend that targets $50 next," said Taso Anastasiou, a UBS technical strategist.